Library bookcase
possibly George Morant (fl. 1790 - 1839)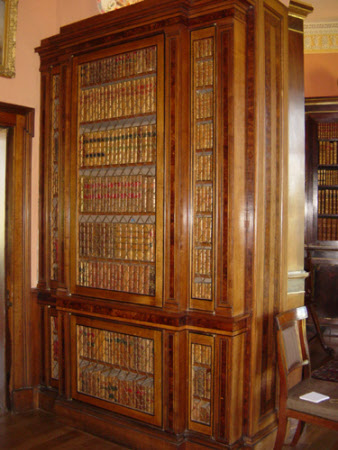 Category
Fixtures and fittings
Date
circa 1814
Materials
Oak, stained walnut, yew-wood, ebonized wood, brass, fabric
Measurements
275.3 cm (Height)
Place of origin
88 New Bond Street, London
Order this image
Collection
Melford Hall, Suffolk (Accredited Museum)
NT 926600
Summary
A set of yew-banded oak and walnut library bookcases, English, circa 1814, probably supplied by George Morant (fl. c. 1790 - 1839) (also G. J. Morant and later Morant & Co.) of New Bond Street, shortly after the library at Melford Hall, designed by Thomas Hopper (1776 - 1856) was completed in 1813. The majority of the cases with brass grilles to the upper and lower doors. Three sections with paneled lower doors and lined with pleated fabric, the curved section with one full-height false door now leading to the Blue Drawing Room. Topped by a moulded cornice and inlaid throughout with panels of yew-wood and strung with walnut. With waist moulding. The doors enclosing shelves. On a plinth base.
Full description
Part of a suite of furniture believed to relate to payments of £700 made by Sir William Parker, 7th Baronet (1769 - 1830) to George Morant of 88 New Bond Street, cabinet-makers and upholsterers to William IV, between 1812 and 1815. In the same period, Gillows of Lancaster received payments of just over £100, possibly for the Grecian chaises longue, or couches, with winged feet [NT 926537.1 & .2]. Having succeeded the 6th Baronet in 1812, Sir William began altering this wing of Melford, filling in the recesses between the turrets of the West Front in order to provide an extra suite of bedrooms upstairs, and a Library and study for his own use downstairs. The rainwater heads to the exterior of this part of the Hall bear the date 1813. Sir William employed Thomas Hopper (1776 - 1856), most famous now for Penrhyn Castle, Carlton House for the Prince Regent and Erddig. He also made alterations to Kentwell Hall, less than half a mile from Melford Hall. The furniture was carefully designed to complement the bookcases [NT 926600] and the matching dado, which are of oak, yew-wood and dark-stained walnut. A similar reading table [NT 926536] also with a hinged top, a firescreen [NT 926597], and a library table [NT 926534] form part of this set. (Megan Wheeler, 2017)
Provenance
Probably acquired circa 1814 by Sir William Parker, 7th Baronet (1769 - 1830). Thence, part of the Hyde Parker Collection, and by descent to Sir Richard Hyde Parker, 12th Baronet (b. 1937). Melford Hall and certain fixtures and fittings included in the freehold transfer by the Treasury to the National Trust in 1960.
Marks and inscriptions
Lock late: 4 LEVER
Makers and roles
possibly George Morant (fl. 1790 - 1839), designer and cabinet maker
References
Jackson-Stops (1981), Gervase Jackson-Stops, 'Thomas Hopper at Melford and Erddig', in National Trust Studies 1981, 69 - 83
View more details