Clock
Edwards and Sons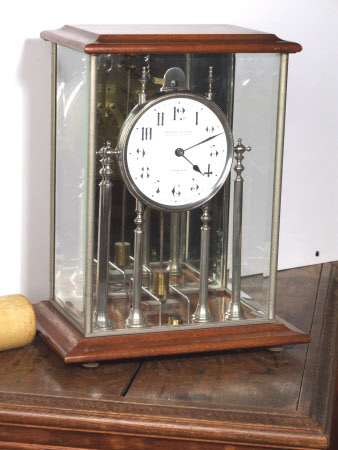 Category
Horology
Date
1910
Materials
Brass, Glass
Measurements
381 x 267 x 190 mm
Place of origin
Regents Street
Order this image
Collection
Castle Drogo, Devon
NT 902588
Caption
This clock demonstrates Julius Drewe's enthusiasm for the latest gadget. In the early 20th century, mechanical clocks that were powered manually by a hanging weight or a mainspring dominated the market; yet Drewe liked to keep up with the latest trends and bought the clock at a cost of 5 guineas. The clock still works today, and joins a variety of gadgetry throughout the house such as a centralised vacuum cleaning system built under the floorboards of the rooms and an electric undercloth on the Dining Room table into which artificial candles were inserted to light the setting. Unfortunately, the centralised vacuuming system failed to work, and one can only imagine the danger of spilt drinks on an electric tablecloth!
Summary
An electrical clock, about 1910 by Edwards and Sons - Single train electrically impulsed pendulum movement of Herbert Scott's design.
Provenance
This item forms part of the original Drewe family collection at Castle Drogo. It was transferred to the National Trust in 1986.
Marks and inscriptions
n
Makers and roles
Edwards and Sons, maker
View more details