Portrait of a man, perhaps Lucius Caecilius Iucundus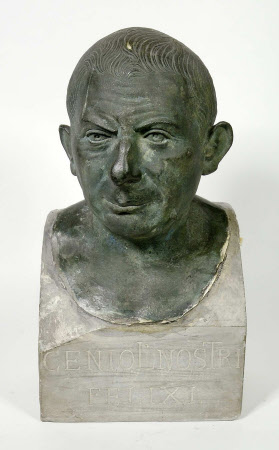 Category
Art / Sculpture
Date
1900 - 1970
Materials
Bronze, stone
Measurements
480 x 250 x 160 mm
Place of origin
Italy
Order this image
Collection
Ightham Mote, Kent
NT 825661
Summary
A 20th-century cast of a bronze portrait bust of a Roman man, possibly the Roman freedman and moneylender Lucius Caecilius Iucundus (c. AD 14-62) whose house at Pompeii was excavated in1844 and 1875. The bronze bust, a highly lifelike portrait, including a prominent wart on the left cheek, is set into a truncated herm, on which is an incised inscription translating as: To the genius [guardian spirit] of our Lucius, I, Felix his freedman [freed slave] (dedicated this herm). The stone is damaged at left.
Full description
The bronze bust attached to a tall herm, now in the Museo Archeologico Nazionale in Naples, was discovered in the house of the banker Lucius Caecilius Iucundus in Pompei, excavated in 1844 and in 1875. The bust has often been thought to represent Lucius Caecilius himself, whose activity as an argentarius (middle man in auctions) is documented through records in the form of inscribed wax tablets, discovered in his house in the 1875 excavations. The latest of the wax tablets date from AD 62, when Pompeii was damaged by a massive earthquake, in which it is possible that Lucius Caecilius Iucundus died. A fictionalised account of Lucius and his family form part 1 of the Cambridge Latin Course, whilst he also featured in an episode of Doctor Who. The original sculpture is a full-length herm which also includes the sitter's genitals in bronze. The numerous reproductions either dispense with the herm altogether or reproduce it in truncated form, as here. The bust was of one many antiquities reproduced in the Chiurazzi foundry in Naples, but was also cast by others in modern times. Jeremy Warren 2017
Provenance
Acquired by Charles Henry Robinson (1892 -1985). Bequeathed to the National Trust with Ightham Mote in 1985 by Charles Henry Robinson (1892 -1985).
Credit line
National Trust Collections (Ightham Mote)
Marks and inscriptions
Incised inscription on herm section : GENIO L. NOSTRI/FELIX L.
References
Bonifacio 1997: Raffaella Bonifacio, Ritratti Romani da Pompei, Rome 1997, pp. 92-94, no. 36, Tav. XXIX Fejfer 2013: Jane Fejfer, Roman Portraits in Context, Berlin 2008, p. 78 Roberts 2013: Paul Roberts, Life and Death in Pompeii and Herculaneum, London 2013, pp. 88-90
View more details