Medal bar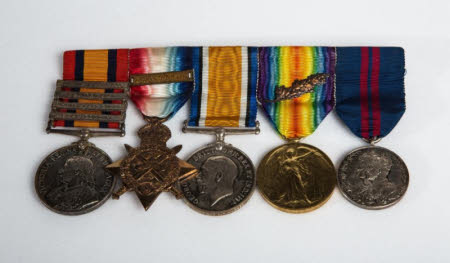 Category
Ephemera
Date
Unknown
Materials
Metal and textile
Measurements
166 mm (Width)
Order this image
Collection
Scotney Castle, Kent (Accredited Museum)
NT 793289
Caption
This medal bar belongs to Brigadier General Arthur Hussey, and would have been worn on formal occasions. The oakleaf pinned to the ribbon of his Allied Victory medal shows that he was mentioned in dispatches, that is to say his superior officer singled him out by name in a report for his bravery or good work.
Summary
A medal bar. Containing five medals belonging to Arthur Herbert Hussey (1863-1923). From left to right: South Africa campaign medal, 1902; 1914 Star; British War medal 1914-1920; Allied Victory Medal 1914-1919 with oak leaf for mention in dispatches; and Coronation Medal of King George V.
Provenance
Part of the Hussey Collection. The contents were bequeathed to the National Trust in 2006 by Mrs Elizabeth Hussey.
View more details