Side table
Carlo Randoni (1755-1831)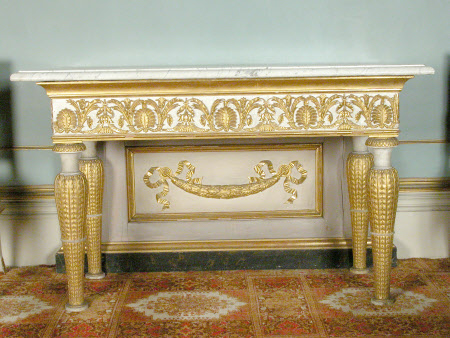 Category
Furniture
Date
circa 1820 - 1821
Materials
Pine, poplar, gesso, gilding, paint
Measurements
84 x 145.7 x 84 cm
Place of origin
Genoa
Order this image
Collection
Attingham Park, Shropshire (Accredited Museum)
NT 608155.1
Summary
A carved, gilded and white-painted pine and poplar side, or serving, table, Genoa, circa 1820-1, probably made by Angelo Oliveri (fl. 1820-1), after a design by Carlo Randoni (1755-1831), for King Vittorio Emanuel I (1759-1824) and Queen Maria Teresa's (1773-1832) residence, Palazzo Tursi, Genoa. Its marble top NT 608155.2. Part of a much larger group of Italian neoclassical furniture at Attingham Park. Topped by a slab of grey-veined white marble, above friezes topped by a gilt capping moulding and applied with carved palmettes between pairs of flowers on leafy stalks and husks. Raised on four rising-baluster turned legs, all-over carved with stiff leaves and with gilt leaf-carved capitals, joined at the rear by a panelled backboard carved with an extended garland tied by ribbons. A gilt moulding and simulated black marble plinth below.
Full description
This table was made for Palazzo Tursi, Genoa, around 1820-1, when it was being refurbished under the direction of architect Carol Randoni (1755-1831). It is one of many pieces of gilded and white-painted Italian furniture at Attingham Park and one of three (see also a chest NT 608156 and a sofa NT 608166.4) which directly relate to drawings by Randoni, strengthening the attribution to him of the design of the seat furniture (see, for instance, NT 608166, NT 608157 and NT 608150). The drawing to which this table relates also bears the name 'Sig[no]re Oliveri' in Randoni's handwriting, suggesting that he was the maker. Palazzo Tursi was the residence of the King Vittorio Emanuel I and Maria Theresa, Queen of Sardinia until 1824, when the King died and ownership of the Palazzo passed from the Crown to the Queen Dowager. After her death in 1832, the house was left vacant and the contents dispersed. It is believed that William Noel-Hill, 3rd Baron Berwick (1773-1842) of Attingham acquired furniture, including this table, from Palazzo Tursi shortly thereafter, since he retired as a diplomat and left Italy from Genoa in 1833. The collection of Italian furniture which the 3rd Baron Berwick brought to Attingham is probably the largest of its kind in the British Isles and certainly 'by far the largest concentration of Italian furniture in any National Trust house'.
Provenance
3rd Lord Berwick collection: William Noel-Hill, 3rd Baron Berwick (1773-1842). Acquired by the 3rd Lord Berwick, who had been in Italy as British envoy and ambassador to the Kingdom of Naples and the Two Sicilies. By descent bequeathed to the National Trust with the estate, house and contents of Attingham by Thomas Henry Noel-Hill, 8th Baron Berwick (1877-1947) on 15th May 1953.
Marks and inscriptions
Inside of front left leg: Larte Darffarte (?)
Makers and roles
Carlo Randoni (1755-1831), architect and designer probably Angelo Oliveri (fl. 1820-1), carver and sculptor
References
Rowell & Burchard 2020: Christopher Rowell & Wolf Burchard, 'Italian Furniture at Attingham Park', Furniture History LVI (2020), 107-176, 119-125 (Palazzo Tursi); 125-7, Figures 24 & 25 Cornaglia 2012: Paoli Cornaglia, Giuseppe Battista Piacenza e Carlo Randoni: I Reali Palazzi fra Torino e Genova (1773-1831), Turin (2012), pp. 38, 196, figures 2.9-11 Colle 2001: Enrico Colle, Italian Empire Furniture: furnishings and interior design from 1800-1843 (New York: Rizzoli, 2001), p. 358 Drury, 1984: Martin Drury. "Italian furniture in National Trust houses." Furniture History, vol. XX, 1984., pp. 38-44; p. 42
View more details