Pilgrim resting on his staff
probably British (English) School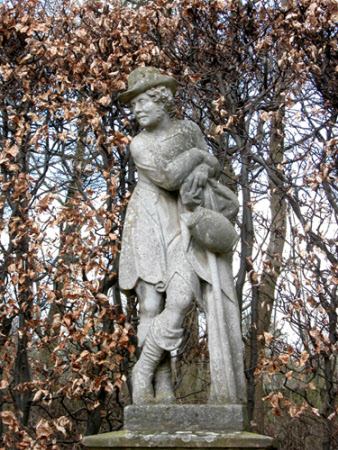 Category
Art / Sculpture
Date
1800 - 1899
Materials
Portland stone
Measurements
282 x 75 x 75 cm
Place of origin
Great Britain
Order this image
Collection
Anglesey Abbey, Cambridgeshire
NT 516658
Summary
Portland stone, a pilgrim resting on his staff, probably British (English) School, after Giambologna (1529-1608), probably 19th century. A full-length statue of a pilgrim resting on his staff and looking to proper right. The male figure is of middle age with curly hair and beard and wears a hat with a shell badge, a tunic with square neckline and torn hem, and calf-length boots. Draped over his staff and held in his proper left hand is a cloak and a barrel-shaped flagon. A pack is slung over his proper right shoulder. The statue is a free and scaled up interpretation of a model by Giambologna made in around 1574-80 and cast in several versions by Antonio Susini, Giambologna's chief caster in bronze (see, for example, inv.no. PV 10809, Museo Nazionale del Palazzo di Venezia, Rome, known as 'Viandante' or Wayfarer). The statue is known at Anglesey Abbey as 'The Pilgrim' because of the scallop shell badge on the figure's hat which is not present in the Giambologna model, traditionally catalogued as 'Peasant resting on his staff'. On an integral limestone base and mounted on a sandstone pedestal.
Full description
The model was first recorded in a Medici document of 1601, when Antonio Susini (1558-1624) was provided with a silver figurine of a 'Villano con capello con bastoncino che s'appogia in su il bastone' ('A peasant with hat and staff resting on his staff') which he was to cast in bronze (Avery and Radcliffe 1978, no. 137). The model, a pendant to a figure of a seated bagpiper, was by Giambologna, the great Flemish-born court sculptor to the Medici (for the bagpiper see inv.no. PV 10810, Museo Nazionale del Palazzo di Venezia). Bronze statuettes after both models were sent by the Medici as diplomatic gifts to Henry Frederick, Prince of Wales (1594-1612), and passed into the collection of Charles I (Watson and Avery 1973). The genre figure of the peasant, typical of the art of the Low Countries, gained popularity in Italy following Giambologna's introduction of such subjects at the Florentine court (Brook 1991). The sculptor's bronzes were also adapted for garden statuary, (Weihrauch 1967, p. 9), but only one adaptation of the peasant resting on staff model is known as a full-size stone statue: a Villano carved for a fountain in Livorno by the sculptor Romolo Ferruccui (1544-1621) between 1605 and 1628 (Zikos 2012). The Anglesey Abbey statue appears to be 19th century pastiche of Giambologna's model, figured as a middle-aged, bearded pilgrim (with distinctly 19th-century sideburns) as opposed to the peasant youth figured in Susini's bronzes which feature no attributes of a pilgrim. According to Lanning Roper, Lord Fairhaven acquired the statue 'from a friend's garden in Suffolk', though no further details have been preserved (Roper 1964, p. 51). Alice Rylance-Watson 2019
Provenance
Bequeathed to the National Trust by Huttleston Rogers Broughton, 1st Lord Fairhaven (1896-1966) with the house and the rest of the contents.
Credit line
Anglesey Abbey, The Fairhaven Collection (The National Trust)
Makers and roles
probably British (English) School, sculptor after Giambologna (Douai 1529 - Florence 1608), sculptor
References
Avery and Radcliffe 1978: Charles Avery and Anthony Radcliffe, Giambologna, 1529-1608: sculptor to the Medici, exh.cat. venues: Royal Scottish Museum, Edinburgh, Victoria & Albert Museum, London, Kunsthistorisches Museum, Vienna 1978, no. 137. Leithe-Jasper and Wengraf 2004: Manfred Leithe-Jasper and Patricia Wengraf, European Bronzes from the Quentin Collection (Frick Collection), New York 2004, no. 13, pp. 158-61 Watson and Avery 1973: Katherine Watson and Charles Avery, 'Medici and Stuart: A Grand Ducal gift of "Giovanni Bologna" bronzes for Henry Prince of Wales (1612), Burlington Magazine, no. 845, vol.115, 1973, pp. 493-507. Weihrauch 1967: Hans R. Weihrauch. Europäische Bronzestatuetten 15.- 18. Jahrhundert, Brunswick 1967, p. 9. Brook 1991: Anthea Brook 'Sixteenth Century "Genre" Statuary in Medici Gardens and Giambologna's Fontana del Villano', in C.A. Luchinat and E. Garbero Zorzi (eds.) Boboli 90 [...] vol. I, pp. 113-30. Zikos 2012: Dimitrios Zikos, 'Romolo Ferrucci del Tadda. The Villano for Livorno. A case for the success of a Giambologna model in Tuscany, Bacarelli Botticelli, Firenze 2012 Roper 1964: Lanning Roper, The Gardens of Anglesey Abbey, Cambridgeshire. The Home of Lord Fairhaven, London 1964, p. 51. Christie, Manson & Woods 1971: The National Trust, Anglesey Abbey, Cambridge. Inventory: Furniture, Textiles, Porcelain, Bronzes, Sculpture and Garden Ornaments', 1971, p. 170.
View more details