A pacing horse
Italian School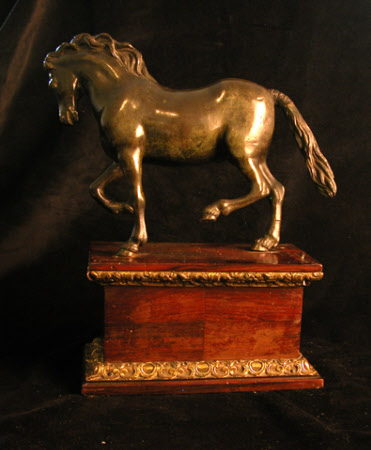 Category
Art / Sculpture
Date
c. 1700 - 1850
Materials
Bronze
Measurements
218 x 270 x 75 mm
Place of origin
Italy
Order this image
Collection
Anglesey Abbey, Cambridgeshire (Accredited Museum)
NT 515110
Summary
Bronze, a pacing horse, Italian School, after a model by Giambologna (Giovanni Bologna, 1529-1608), c. 1700-1850. A bronze figure of a pacing horse, after a model by Giambologna (Giovanni Bologna, 1529-1608). The horse, with a full combed mane and tail bound at the top, moves forward, right foreleg and left hindleg raised. This is a late cast, probably from the 19th century, of a popular model known in numerous versions; another and better version is also at Anglesey Abbey (NT 515096). The right hind leg is broken, and there is a loose pin on the front foot. Mounted on a wooden socle with gilt-bronze mounts.
Full description
The statuette of a pacing horse is one of many examples of a model by the Flemish-born sculptor Giambologna (Giovanni Bologna, 1529-1608). In the course of his long career as court sculptor to the Medici Grand Dukes in Florence, Giambologna made a large number of sculptures of animals, including horses, birds and bulls. Unlike his statuettes of bulls (see NT 515167), which were made only on a small scale, Giambologna produced colossal figures of horses for the equestrian monuments he created in the course of his career, of which the most famous and the most technologically challenging is the over life-size statue of Grand Duke Cosimo I de'Medici on horseback, made between 1587 and 1594 and installed on the Piazza della Signoria, where it remains to this day. Giambologna was fascinated all his life by the horse as an ideally suited subject for sculpture in bronze. He and his workshop made other equestrian monuments, notably those to Grand Duke Ferdinando I de'Medici (1601-08, Piazza della Santissima Annunziata, Florence) and to King Henri IV of France (1604-14, Pont Neuf, Paris, destroyed in 1792). But Giambologna also made a series of small-scale statuettes of pacing horses (Avery and Radcliffe 1978, nos. 151-52, 154-58; Charles Avery in Eiche et al 2000, pp. 11–28, repr; Avery 2001, pp. 254-76). The earliest references to a bronze statuette of a horse are found in the 1570s. In the numerous versions that survive, the pose of the horse, with its right foreleg and left hindleg raised, is constant, and is also seen in the pose of the much larger horse in the monument to Cosimo I. Otherwise, though, the horses divide into two basic variant types. In one, the model of the Anglesey Abbey horse, the horse has a flowing mane and tail, whilst in the other the mane is tightly hogged and in many examples the horse has a saddlecloth on its back. A contemporary cast made in Giambologna's workshop, in the Victoria & Albert Museum, London, is one of the finest examples of the variant showing the horse with a flowing mane, (inv. A.148-1910; Avery and Radcliffe 1978, no. 151). There is another example in the Royal Collection (RCIN 35467; Avery and Radcliffe 1978, no. 152). It is thought to be the only one still in the British Royal collections from the group of bronzes after models by Giambologna that was presented by Grand Duke Cosimo II of Tuscany to Prince Henry of Wales, the short-lived elder son of King James I/VI in 1612, (Watson and Avery 1973, pp. 493-507, pp. 503-06, no. 6, fig. 19). The Tuscan ambassador, Andrea Cioli, who had overseen the gift, reported back to Florence Prince's delight, adding that when it had been suggested that one of the bronzes, a small figure of a pacing horse), might be suitable for Henry's eleven year-old brother Charles, Henry had replied sharply 'no, no…I want everything for myself'. As it happened, Henry died shortly thereafter at the age of just 18, and so all the bronzes did in the end pass to the future Charles I. The statuette is one of two versions of the model at Anglesey Abbey (the other is NT 515096). This cast generally follows the model of the horse in the V&A, but the tail, which does not fall vertically but rather fans out behind, is in fact closer to another small statuette of a horse in the V&A, signed by Giambologna's assistant and associate Antonio Susini (1558-1624) (inv. A.11-1924; Paolozzi Strozzi and Zikos 2006, no. 61). However, the Anglesey statuette is not a very good quality cast, the details such as the horse's teeth rather crude and the surfaces messy. At best it probably dates from the 18th century, but it may well be even later. Jeremy Warren 2020
Provenance
Acquired by Urban Huttleston Rogers Broughton, 1st Lord Fairhaven (1896-1966) by 1932; identifiable in the Anglesey Abbey inventory 1932, p. 59, Windsor Room, valued at £21; bequeathed to the National Trust by Huttleston Rogers Broughton, 1st Lord Fairhaven (1896-1966) with the house and the rest of the contents.
Credit line
Anglesey Abbey, The Fairhaven Collection (The National Trust)
Makers and roles
Italian School, sculptor after Giambologna (Douai 1529 - Florence 1608), sculptor
References
Avery and Radcliffe 1978: Charles Avery and Anthony Radcliffe, Giambologna, 1529-1608: sculptor to the Medici, exh.cat. venues: Royal Scottish Museum, Edinburgh, Victoria & Albert Museum, London, Kunsthistorisches Museum, Vienna 1978 Eiche 2000: S. Eiche et al. (eds.), Giambologna tra Firenze e l'Europa: atti del convegno internazionale, Firenze, Istituto universitario olandese di storia dell'arte, Florence 2000, Charles Avery, 'Giambologna's horses: questions and hypothesis', pp. 11–28, repr. Avery 2001: Charles Avery, Studies in Italian Sculpture, London 2001 Watson and Avery 1973: Katherine Watson and Charles Avery, 'Medici and Stuart: A Grand Ducal gift of "Giovanni Bologna" bronzes for Henry Prince of Wales (1612), Burlington Magazine, no. 845, vol.115, 1973, pp. 493-507. Paolozzi Strozzi and Zikos 2006: Beatrice Paolozzi Strozzi and Dimitrios Zikos (eds.), Giambologna, gli dei, gli eroi. Genesi e fortuna di uno stile europeo nella scultura (Museo Nazionale del Bargello), Florence 2006 'Anglesey Abbey, Lode, Cambridgeshire. An Inventory and Valuation of Furniture, Pictures, Ornamental Objects, Household Effects and A Collection of Miniatures.. prepared for Insurance Purposes', Turner, Lord and Ransom, November 1932, p. 59. Christie, Manson & Woods 1971: The National Trust, Anglesey Abbey, Cambridge. Inventory: Furniture, Textiles, Porcelain, Bronzes, Sculpture and Garden Ornaments', 1971, p. 129.
View more details