Composite Verdure
Flemish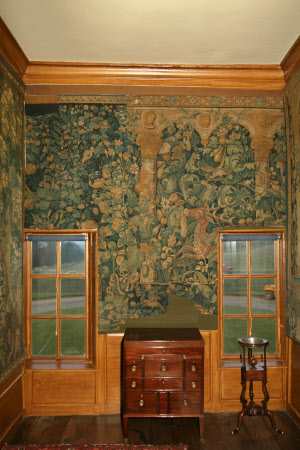 Category
Tapestries
Date
1550 - 1575
Materials
Silk, Wool
Measurements
2640 mm (Width)
Order this image
Collection
Lyme, Cheshire (Accredited Museum)
NT 500372
Summary
Tapestry, wool and silk, 4-6 warps per cm, Composite Verdure, Flemish, c. 1540 – 1570. A T-shaped verdure tapestry composed of pieces from at least two unrelated tapestries, with sections cut out at both lower corners to make way for windows. The largest section, making up the right hand side of the panel and extending almost to the bottom, consists of large curling leaves and fruit on a dark ground with a leaping stag and a flying game bird. There are two framing columns at each side and an arched proscenium at the top inset with portrait medallions, and along the upper edge there is a strip of narrow border with an abstract interlace pattern on a yellow ochre ground. The upper left hand corner of the tapestry is formed of two strips of verdure with smaller and more varied leaves and flowers on a dark ground, with a very narrow strip of patterned border at the top. The bottom of the tapestry is made up of a number of small fragments of verdure with a section of blank canvas at the bottom.
Full description
The right hand part of this tapestry is part of a larger panel that once formed a series with the larger 'Verdure with Arches' that hangs in the Tapestry Dressing Room at Lyme (500306). The sections at the left hand side come from an unrelated tapestry with a finer weave of 6 warps per cm as opposed to 4 warps per cm, and with a more delicate design of smaller and more varied plants and flowers. (Helen Wyld, 2010)
Provenance
At Lyme Park since at least 1929; placed on loan from the 3rd Lord Newton to the National Trust in 1948; given to the National Trust by 5th Lord Newton and the Hon. David Legh in 1997.
Makers and roles
Flemish, workshop
View more details