Histoire naturelle des oiseaux de paradis et des rolliers, : suivie de celle des toucans et des barbus, / par François Levaillant.
François Le Vaillant (1753-1824)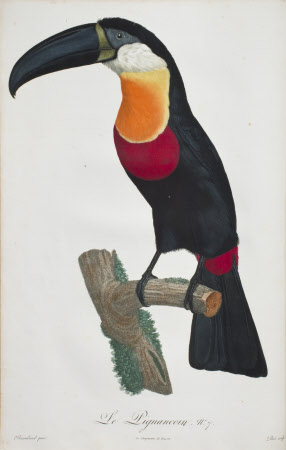 Category
Books
Date
1806
Materials
Place of origin
Paris
Order this image
Collection
Anglesey Abbey, Cambridgeshire
NT 3102761
Summary
François Le Vaillant, 'Histoire Naturelle des Oiseaux de Paradis', Paris: Denne, 1806. Binding: Half-goatskin with marbled paper boards, 19th century.
Full description
The vogue in post-revolutionary France for illustrated works of natural history was fuelled by the emergence of a newly prosperous middle-class market and by a number of technical innovations. The new technique of stipple engraving became the basis for a method of colour printing claimed as his invention by the botanical painter Pierre-Joseph Redouté (1759-1840), in which each colour was applied individually to the engraved plate with a 'poupée' or rag dabber, and a single impressions made, after which the process was repeated. Although slow and laborious, the method produced impressive results and François le Vaillant was among the first to employ it in a series of bird books begun in 1796. Le Vaillant was born in 1753 in Surinam, where his father was consul, moving to Europe at the age of ten. He had already begun collecting stuffed specimens, having a particular interest in birds, and went to Paris as a young man in 1777 to further his studies. The study of natural history at that time was necessarily focused on stuffed specimens, collecting in the cabinets of learned societies. Le Vaillant, though an expert taxidermist himself, found this unsatisfactory. He was as much interested in the behaviour as the appearance of the creatures he studied, and resolved to travel to Africa to observe them in their natural habitat. He arrived at the Cape of Good Hope in 1781, almost immediately losing his possessions when the Dutch merchant fleet with which he was travelling was destroyed in the Battle of Saldanha Bay. Undaunted, Le Vaillant made two hazardous trips into the interior before returning to Paris laden with specimens, including the skin of a giraffe he claimed to have shot. This, when stuffed and mounted, became such a prized possession of the Musée d'Histoire naturelle that they had it painted almost life-size in oils. His first two books were lively, if not entirely reliable, accounts of his adventures, written with the assistance of ghost writer, since Le Vaillant's wandering youth as the son of a diplomat had not enabled him to acquire the art of writing correct literary French. The author presented himself as a child of nature to an age awash with the ideas of Rousseau, and his accounts were widely read and translated. His series of bird books began with 'Histoire naturelle des Oiseaux d'Afrique', issued in 50 parts over more than a decade. Four other books followed, of which 'Oiseaux de Paradis' was the third. Each drew largely on Le Vaillant's own collections of specimens, painted by Jacques Barraban (1767–1809) and Jean-Gabriel Prêtre and engraved under the direction of Louis Bouquet (1765–1814). The capital outlay for such lavishly illustrated works was considerable, and more than many in the book trade could bear; 'Oiseaux d'Afrique 'changed publisher three times over its long gestation, and each of its successors was issued under a different imprint. Although there was some disagreement over the accuracy of his ornithology. Le Vaillant's works remained highly collectable; he himself died in modest circumstances in 1824. Text adapted from William Hale's entry in 'Treasures from Lord Fairhaven's Library at Anglesey Abbey', 2013, cat. 22, p. 86-7.
Bibliographic description
2 v., plates (some folding) : col. ill. ; fol. Plates hand-coloured. Loosely inserted typescript catalogue slip. in v. 1. Provenance: Nineteenth-century armorial bookplate: George Sowerby. Case Q Shelf 6. [i.e. probably either George Brettingham Sowerby (1788-1854), or his son George Brettingham Sowerby (1812-1884), both naturalists and illustrators]. Twentieth-century armorial bookplate large variant, signed Badeley 1930: Urban Huttleston Rogers Lord Fairhaven [i.e.: Urban Huttleston Broughton (1896-1966)]. Price in pencil on v. 1 flyleaf: £20. Pencil mark: "L.6" on front free endpaper verso in v. 2 (historic shelfmark?). Binding: Nineteenth-century half morocco; marbled sides; gilt spine title 'Histoire naturelle. Vaillant.'; sewn on six raised bands; marbled textblock edges; marbled endpapers.
Makers and roles
François Le Vaillant (1753-1824) , author Barraband, Jacques, artist Perée, Jacques Louis, engraver
References
Purcell, Hale, Pearson 2013: Mark Purcell, William Hale, David Pearson, 'Treasures from Lord Fairhaven's Library at Anglesey Abbey', National Trust and Scala Arts & Heritage Publishers Ltd, 2013., cat. 22, p. 86-7.
View more details