Theatrum vitae humanae.
Theodor Zwinger (1533-1588)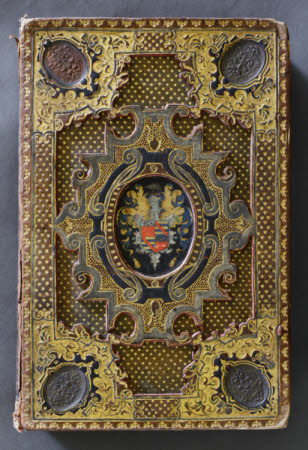 Category
Books
Date
1565
Materials
Couch-laminated paper boards (millboard), calfskin, goatskin, paper, gold leaf, pigments
Place of origin
Basel
Order this image
Collection
Kingston Lacy Estate, Dorset
NT 3095989
Caption
The craft of bookbinding became an art in itself during the European Renaissance as the ownership of well-stocked libraries became ever more important to the status and influence of courtiers, statesmen and the nobility. The ornate binding shown here was commissioned for the library of the Elizabethan politician Sir Nicholas Bacon (1509–79). He served as Lord Keeper of the Great Seal, and this beautiful binding in calfskin and goatskin includes his painted coat of arms. In Britain, the best examples of bookbinding were produced or influenced by European craftspeople. This one is the work of the émigré Huguenot bookbinder Jean de Planche, who worked in London from 1567 to at least 1575. His skills were greatly prized, and his clients included Queen Elizabeth I and the Archbishop of Canterbury. The binding shown here was made to contain an enormous encyclopedia of human and divine knowledge by the Swiss scholar Theodorus Zwinger (1533–88).
Summary
Theatrum vitae humanae (Basel, 1565), by Theodor Zwinger. Bound in a Jean de Planche binding originally created for Sir Nicholas Bacon.
Full description
This is an example of a 'sunk panel' style of binding, which is made up of two separate layers of leather covered millboard. It has been lavishly decorated with gold leaf, embossed pieces of leather and the owners' motto and painted coat of arms. The book is important for retaining nearly all of its original binding, including its unusual extended end bands, which are worked around the edges of both covers as well as across the head and tail of the spine, a feature unique to de Planche at this time. Unlike other examples of Jean de Planche's work, the Kingston Lacy binding has escaped any major restoration work over the centuries. Jean de Planche was born in Dijon, moved to Rouen, where he married, and then finally to London. His time in London can be partially traced from the 1572 accusation of bigamy brought against him after he married Helaine Couppe, the daughter of a shoemaker at Temple Bar. Attempts to repudiate his first wife, who still lived in Rouen, on the grounds of her having been 'une paillarde' (a harlot), dragged on inconclusively for over three years. Following the book's ownership by Sir Nicholas Bacon, it came into the library of Sir John Bankes (1589-1644) during the early seventeenth-century. It is one of few remaining books from Sir John's library, most of which was sequestered and given to the prominent lawyer, Sir John Maynard (1604-1690) in 1645.
Bibliographic description
55, [2], 1428, [24] p.; fol.. Provenance: Originally bound for Sir Nicholas Bacon (1509-1579), it came into the library of Sir John Bankes (1589-1644) during the early seventeenth-century. Binding: by Jean de Planche for Sir Nicholas Bacon. 'Sunk pane' style: the lower level a plain calf background powdered with small gold stars; the upper level an elaborate outer frame and central cartouche with Bacon's arms; the oval cartouche has an elaborate frame, enclosed in an outer frame, perhaps originally silver, which consists of four gilt arabesque corner-pieces with foliate spays in reverse enclosing frames, each with oval medallions stamped in gesso-filled sockets; the frame linking them is covered with impressions of the same small star. A polychrome silk band extends along the edges of the boards from the head- and tail-caps
Provenance
Sir Nicholas Bacon; probably Sir John Bankes, and by descent at Kingston Lacy; bequeathed by Mr Ralph Bankes to the National Trust with the house and its contents in 1982.
Makers and roles
Theodor Zwinger (1533-1588), author
References
Barker, Nicolas. Treasures from the libraries of National Trust country houses. 1999., cat. 32 Foot 1977: Mirjam M. Foot, 'The British bindings in the Henry Davis gift', The British Library journal (1977): 114-128 Nixon and Foot 1992: Howard M. Nixon and Mirjam J. Foot, History of Decorated Bookbindings in England, (Oxford, 1992) Yakush and Smyth 1985: Mary Yakush and Frances Smyth (eds.), The Treasure Houses of Britain: Five Hundred Years of Private Patronage and Art Collecting, (Washington 1985) Nixon 1970: Howard M. Nixon, 'Elizabethan Gold-Tooled Bindings' in Essays in Honour of Vincent Scholderer, (Mainz 1970)
View more details