Lady Violet Ida Herbert Evelyn Herbert (née Lane-Fox), 16th Baroness Darcy of Nayth and Countess of Powis (1865-1929)
John Singer Sargent, RA (Florence 1856 - London 1925)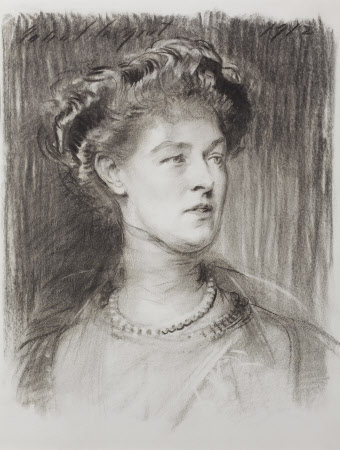 Category
Art / Drawings and watercolours
Date
1912
Materials
Charcoal on paper
Measurements
600 x 475 mm
Place of origin
England
Order this image
Collection
Powis Castle and Garden, Powys (Accredited Museum)
NT 2900018
Caption
This bust-length portrait of the Countess of Powis was drawn in charcoal by John Singer Sargent in 1912, during the latter stages of his career. By this time, Sargent was living in London having gained international acclaim as a portraitist. The sitter and her husband George Herbert, 4th Earl of Powis, owned a house at 45 Berkeley Square, and it is here that the portrait was hung. In 1937, shortly before the house was sold, it was listed in the Drawing Room. Following the sale of the house, it was removed to Powis Castle where it has been on display ever since.
Summary
Charcoal on paper, Lady Violet Ida Herbert Evelyn Herbert (née Lane-Fox), 16th Baroness Darcy of Nayth and Countess of Powis (1865-1929) by John Singer Sargent, RA (Florence 1856 - London 1925), 1912. A head-and-shoulders portrait of a lady, turned to the left, head and gaze turned to the right.
Provenance
Listed in the Drawing Room of the Earl of Powis's London house at 45 Berkeley Square, 1937; upon the sale of the house in that year the drawing was taken to Powis Castle; acquired by the National Trust from a private collection through Anthony Mould Ltd, London, with the help of a £25,000 grant from the Art Fund, 2010.
Makers and roles
John Singer Sargent, RA (Florence 1856 - London 1925), artist
References
Chu 2018 John Chu, House of Portraits: Powis Castle, Swindon, 2018, pp.12-13
View more details