Creel or Warping Frame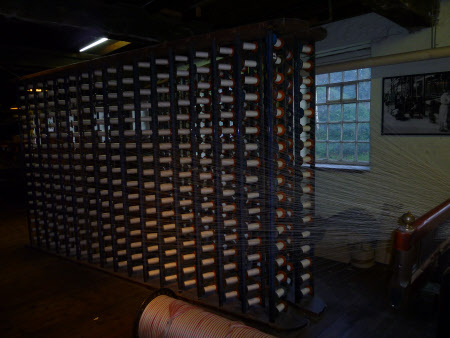 Category
Machinery and industrial devices
Date
Unknown
Materials
Wood
Measurements
393 cm (length)26 cm (width)227 cm (height)
Order this image
Collection
Quarry Bank, Cheshire
NT 1453848
Summary
A creel or wooden warping frame in two parts on which bobbins are mounted and aligned so as to form a 'v'. The frame is from R. Greg and Co. Reddish.
Provenance
The wooden frame was originally used at R. Greg and Co in Reddish.
Marks and inscriptions
V-shaped wooden frame in two parts, the two parts are aligned so as to form the 'V'. Each part of the V is a rectangular wooden frame with 17 pairs of vertical rails. These rails have 17 horizontal bars on which a bobbin is mounted. The yarn on these bobbins is drawn onto the beam by the beamer. Each of the vertical rails has a glass bar along the length of its outside edge to stop the yarn snagging on the wood as it passes over it en-route to the beamer.
View more details