Pianola
John Broadwood and Sons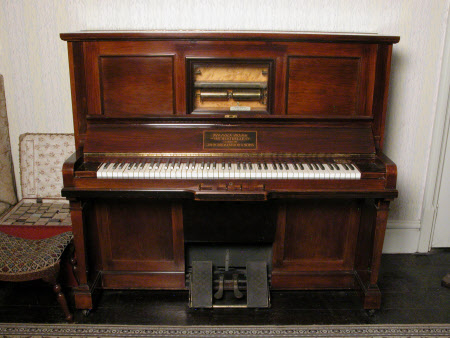 Category
Musical instruments, devices and recordings
Date
1906
Materials
Mahogany
Measurements
138 mm (H)158 mm (W)70 mm (D)
Place of origin
London
Order this image
Collection
Sunnycroft, Shropshire
NT 1319311.1
Caption
This particular self-playing pianola is also known as a 'Player-Piano'; although it can be played as a regular piano, it has an internal player mechanism which holds a reel of perforated paper. The pianist must pump the pedals to make the mechanism 'read' the holes in the paper, and play the corresponding music. The final effect is as though a ghost is playing the piano, as the keys move without seemingly being touched.
Summary
Upright pianola 'player-piano'. The slightly wider than usual case is finished in dark rosewood. It incorporates a 65-note player mechanism, the spool box of which is concealed behind a sliding panel in the top door. The treadles to pump the player are hinged to swing down outside the piano pedals or be folded back up when not in use. In front of the keyboard are the bass, treble, tempo and re-roll levers.
Full description
The piano is recorded in the Broadwood archive as one of six supplied to 'The Orchestrelle Company, 135 New Bond Street, to be delivered to 14 Elm Street, for £45 each net, on 28 September 1906' [letter from Dr. David Robinson to AG, 1.06.98; the others in the batch were nos. 102380, 102395 and 102397-9]. It was retailed by W. H. Priestley & Sons of Birmingham. Their bill survives at the house. Dated 5th July 1907, it records the sale two days previously of a 'Broadwood Pianola piano' to 'Wm. Hunt, Esq., Wood Green, Wednesbury'. Excluding a £13 allowance 'for old piano' and what was presumably a further £3 discount for prompt settlement, the instrument cost £134.8s.0d.
Marks and inscriptions
'PIANOLA PIANO, THE ORCHESTRELLE CO, LONDON, JOHN BROADWOOD and SONS'. Inscrip. inside top incl. No '102394'.
Makers and roles
John Broadwood and Sons
View more details