Wall painting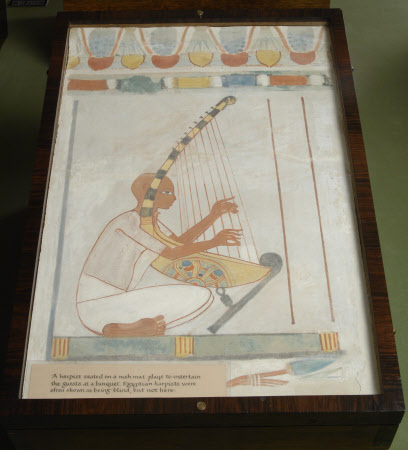 Category
Archaeological material
Date
1425 BC - 1375 BC
Materials
Glass, Paint
Measurements
580 mm (H)370 mm (W)320 mm (H)410 mm (W)620 mm (D)
Order this image
Collection
Kingston Lacy Estate, Dorset
NT 1257258
Caption
Wall painting of an Egyptian musician shown in profile, playing a harp, from a Theban tomb.
Summary
Wall painting depicting a harpist seated on a rush mat playing to entertain the guests at a banquet. Egyptian harpists were often shown as being blind, but not here. In glazed case. (One of?) four fragments from unindentified tomb dated 1425-1375BC in the great necropolis which served the important cult and administrative centre of Thebes in Upper Egypt. The paintings are executed in tempera-technique in which the pigments used were based on mineral materials which are for the most part non-figutive. The base is a fine gesso plaster floated over a thick Nile-mud backing which was applied directly to the walls of the excavated tomb-chapel. The scenes found in a typical 18th-Dynasty tomb at Thebes, are all of ritual significance, but some seem simply to depict secular scenes of events and activities in which the deceased tomb-owner would hope to participate in his after-life. Among such scenes are representations of banquets and entertainments with much eating and drinking, and musical interludes including dancing. The fragments unfortunately lack inscriptions and there is no possibility of identifying the owner of the tomb.
References
Tuer, Andrew White,. 1,000 quaint cuts from books of other days [1886].
View more details