Sleeping chair
attributed to Jean Poictevin (fl.1677)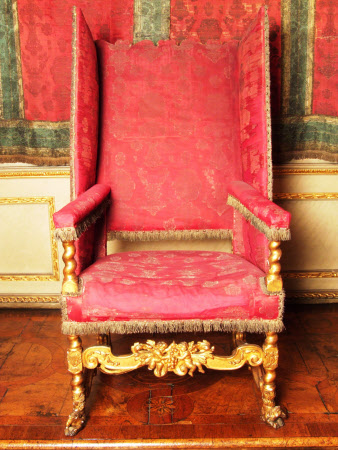 Category
Furniture
Date
Unknown
Materials
Carved and gilded wood, crimson silk brocaded
Measurements
130 x 74 x 91.4 cm
Place of origin
England
Order this image
Collection
Ham House, Surrey
NT 1139890.2
Caption
When Elizabeth and the Duke of Lauderdale extended the house, they used the opportunity to flatter Charles II's wife, Queen Catherine of Braganza. They built a suite of rooms for her exclusive use, including a private closet furnished with this magnificent sleeping chair, which reclined so the Queen could rest in comfort.
Summary
A sleeping chair, from a pair, English circa 1677-1679, carved and giltwood, original crimson brocaded silk upholstery with gold fringe, matching the wall hanging of the Queen's Closet. The shaped top rail with "cutts and scrollups", above a rectangular back and wings, extending down outside the arm to the level of the seat rail. Wings can be adjusted by means of an iron rachet on each side with holes in them. The square upholstered seat is supported on twist-turned legs terminated by carved seahorses. The legs are joined by "double S" or "cupid bow" stretchers, the fore-rail carved as two broken scrolls centred by a pair of cherubs. These chairs were made for the Duke and Duchess of Lauderdale between 1677 and 1679 as they appear in the latter inventory, in the Queen's Closet. Peter Thornton suggested that the Ham sleeping chairs may have come from Jean Poictevin's workshop. In 1677, Jean Poictevin (also known as John Paudevine) provided such a chair for Her Majesty's Bedchamber at Whitehall. It is described as being 'neately carved and the Irons all gilt with Gold'. Ham's sleeping chairs also have the gilded iron quadrants and as the Lauderdales employed the same craftsmen as the Royal Family, they are likely to have resembled closely the chair provided for the Queen by Poictevin.
Provenance
The 1679 Ham House inventory records : "Two sleeping chayres carv'd and guilt frames covered wth. Crimson and gould stuff wth. gould fringe, Cases of Crimson sarsnet". Acquired in 1948 by HM Government when Sir Lyonel, 4th Bt (1854 – 1952) and Sir Cecil Tollemache, 5th Bt (1886 – 1969) presented Ham House to the National Trust, and entrusted to the care of the Victoria & Albert Museum, until 1990, when returned to the care of the National Trust, and to which ownership was transferred in 2002.
Marks and inscriptions
'repaired by Tiller' - typed label under seat
Makers and roles
attributed to Jean Poictevin (fl.1677), maker
References
Thornton and Tomlin 1980 Peter Thornton, and Maurice Tomlin. "The Furnishing and Decoration of Ham House." Furniture History, The Journal of The Furniture History Society Vol.XVI, 1980, p.64 and 150 Rowell 2013: Christopher Rowell (ed.), Ham House, 400 Years of Collecting and Patronage, Yale University Press, New Haven & London 2013, p.257-258
View more details