An ivory frame, containing a photograph of George Nathaniel Curzon, 1st Marquess Curzon of Kedleston (1859–1925)
possibly Karnataka School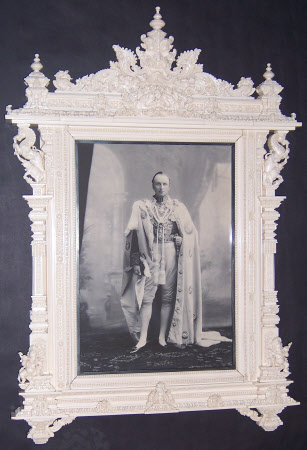 Category
Ivory and bone
Date
1903
Materials
Ivory, photograph
Measurements
640 x 490 x 40 mm
Place of origin
Mysuru (Mysore)
Order this image
Collection
Kedleston Hall, Derbyshire
NT 107838
Caption
'A South-Indian carved ivory frame, containing a portrait of Lord Curzon in robes as Grand Master of the Star of India, worn by him at Delhi, January, 1903'.
Summary
Ivory, frame, probably South-Indian (Mysuru, Karnataka or Tamil Nadu) School, c. 1903. An intricately carved ivory frame containing a full-length portrait photograph of George Nathaniel Curzon, 1st Marquess Curzon of Kedleston (1859–1925), Viceroy of India (1899-1905), wearing the vestments and accoutrements of the Grand Commander of the Order of the Star of India, an imperial order of chivalry founded by Queen Victoria, Empress of India from 1876 to 1901. The photograph was taken at the 1903 Delhi Durbar, a series of ceremonies marking the succession of Edward VII and Alexandra of Denmark as Emperor and Empress of India. The richly carved frame, most likely a diplomatic gift, comprises a pedimental structure supported by flanking pillars. It incorporates Hindu iconography, with mythological figures at the pedestal and capital of the pillars, the pediment surmounted by the Kirtimukha, a protective demon-mask or threshold guardian often seen above doorways in temple architecture. The Kirtimukha is always depicted in the act of swallowing or self-cannibalising, to represent the all-consuming power of Lord Shiva. Here it swallows jewels. It is commonly seen in South-Indian temple architecture which may suggest that the frame was produced by sculptors of the Mysuru (Mysore) or Tamil Nadu Schools.
Full description
The tradition of ornamental ivory carving has existed in India since the 1st century CE, each region with its own speciality. Although international trade of Asian elephant ivory was banned in 1975, illegal trade continues to threaten this endangered species. Kedleston contains a substantial collection of Indian ivories produced in artisanal centres such as Murshidabad in West Bengal and Mysuru (Mysore). George Curzon amassed many such objects during his enforcement of British rule in India and related travels across the Asian continent. He collected religious, military, and domestic objects encompassing a diversity of cultural and artistic traditions. As the most powerful figure in the Indian colonial administration, he was also given an abundance of gifts, these representing relationships of power. Curzon displayed the collection in a purpose-built 'Eastern Museum', which is arranged taxonomically from a western perspective. A new project is underway to research, interpret and redisplay the 'Eastern Museum' in partnership with communities of interest and experts in Asian art and history. Alice Rylance-Watson 2020
Provenance
Curzon Collection acquired by gift as part of the transfer of Kedleston Hall to The National Trust in 1986.
Makers and roles
possibly Karnataka School, sculptor possibly Tamil Nadu School, sculptor
Exhibition history
The Treasure Houses of Britain, National Gallery of Art, Washington, USA, 1985 - 1986, no.580
View more details