"The Levasseur / Uppark Scabellons"
attributed to Etienne Levasseur (1721-1798)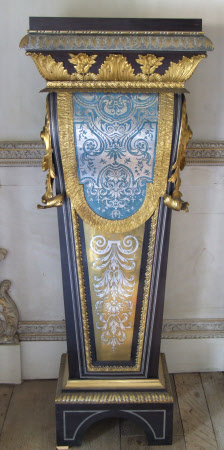 Category
Furniture
Date
circa 1770
Materials
oak, ebony veneer and ebonised wood, blue tainted horn, brass and pewter inlaid veneer, gilt bronze mounted
Measurements
135 x 47.5 x 33 cm
Place of origin
France
Order this image
Collection
Uppark House and Garden, West Sussex (Accredited Museum)
NT 137628.1
Summary
A pedestal or "scabellon", French, circa 1770, one of a pair, from a set of four, with pewter inlay on a brass-ground, attributed to Etienne Levasseur, the ebony veneered tapered upright veneered with Boulle marquetry panels to front and sides, surmounted by a shaped apron in blue stained horn inlaid with pewter within gilt bronze fringed borders, mounted to each side with gilt bronze acanthus scrolls and pattern-friezes. André-Charles Boulle (1642 -1732) created this form of "scabellon" and a pair dated circa 1710 can be seen at the château de Versailles. His design was published by Mariette in "Nouveaux Desseins de Meubles et Ouvrages de Bronzes et de Marqueterie Inventes et Graves par André-Charles Boulle". Several pairs are recorded in 18th century French collections such as Jean de Julienne and Pierre-Paul-Louis Randon de Boisset. A pair was acquired in 1715 for August the Strong, prince-elector of Saxony and King of Poland, in Dresden Grunes Gewolbe. The Musée du Louvre counts three pairs in its collection including three bearing Levasseur's stamp. Indeed, Etienne Levasseur (1721-1798) restored and specialised in Boulle furniture, re-creating some of his works such as the present pedestals. They belong to a larger group of pedestals attributed to Levasseur, notably an identical pair (Drouot Aguttes 7 décembre 2012, lot 180) and a comparable set of four at Stratfield Saye, supplied to the first Duke of Wellington by the Parisian dealer Bonnemaison in 1818. The Uppark pedestals differ slightly to the Wellington set in which each shows pewter and brass aprons inlaid with a slightly different design and is decorated with sunflowers only on the front of the frieze. In comparison, the Uppark pedestals are closer to the original model by Boulle except for the small gilt bronze friezes to the top and base. They were listed in the 1874 inventory and are thought to be part of Sir Harry Fetherstonhaugh's collection (1754-1846). Following the Prince of Wales, Harry purchased French furniture and Sèvres porcelain in the early years of the 19th century. His first purchase is recorded in 1803, in Paris, buying on the Prince's and his own behalf from the Parisian dealer Martin-Eloi Lignereux.
Provenance
Listed in the 1874 inventory. Acquired by Sir Harry Fetherstonhaugh (1754-1846); by descent; given to the National Trust in 1954 with the house and some of its contents by Admiral the Hon. Sir Herbert Meade-Fetherstonhaugh.
Marks and inscriptions
Back: An old label, illegible : "M P.... V...."
Makers and roles
attributed to Etienne Levasseur (1721-1798) , maker
References
Rowell, 2007: Christopher Rowell. "French furniture at Uppark: Sir Harry Fetherstonhaugh and his friends in postrevolutionary Paris." Furniture History 43 2007: 267-292. Ronfort 2009: Jean Nérée Ronfort (ed.), André Charles Boulle, 1642-1732 : Un nouveau style pour l'Europe (ex. cat.), Frankfurt 2009
View more details