Mars
attributed to Sébastien Slodtz (Paris 1655 - Paris 1726)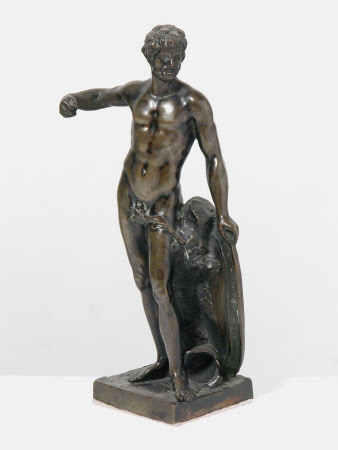 Category
Art / Sculpture
Date
circa 1701 - circa 1799
Materials
Bronze
Measurements
220 x 115 x 67 mm
Place of origin
France
Order this image
Collection
Erddig, Wrexham (Accredited Museum)
NT 1149421
Summary
Bronze, Mars, attributed to Sébastien Slodtz (1655-1726), c.1701-99. A bronze figure of Mars, the Roman god of war. The figure is nude, covered by a branch of foliage, and leans against a tree trunk. The shield is held up with the left hand, the right hand once held a sword (now lost). Mars' helmet is at the proper left foot. The figure is mounted on an integrally cast bronze base.
Full description
Sébastien Slodtz appears to have drawn on studies for his sculpture of Hannibal to model Mars. The head and pose are close to his marble statue of Hannibal, which was commissioned for the Bâtiments du Roi in 1687 from a small model by François Girardon (1628–1715). The statue was completed in 1704 and installed in the Tuilleries; it is now in The Louvre, Paris, inv.no. M.R. 2093. The inventory for the sculptor's estate lists 'four figures in plaster about eighteen pouces high representing Mars, whose pieces are not put together, with the mold' and a clay model of Mars with a height of 50 centimeters (Souchal 1967, p.605). The height corresponds to a bronze Mars at Windsor Castle attributed to Slodtz, catalogued as the Emperor Hadrian in the guise of the god (RCIN 44195). In his 1967 catalogue Les Slodtz, Souchal suggests that Sébastien may have collaborated on the model for Mars with the sculptor Corneille Van Clève (1645-1732) who occupied a neighbouring studio in The Louvre and whose figure of Mars was cast by the foundry Le Pileur in 1697 (Souchal 1967, p.606). The figure was subsequently cast in a reduced form of 22 centimeters in a pairing with Venus and Cupid, as in this example at Erddig (paired with NT 1149422). Other known examples are at Woburn Abbey and in the Quentin Collection. Variations cast show Mars with a spear instead of a sword, and some are in gilt bronze. Alice Rylance-Watson January 2019
Provenance
Given by Phillip Yorke III (1905-1978) along with the estate, house and contents to the National Trust in 1973.
Credit line
Erddig, The Yorke Collection (The National Trust)
Makers and roles
attributed to Sébastien Slodtz (Paris 1655 - Paris 1726), sculptor
References
Souchal 1967: François Souchal, Les Slodtz, sculpteurs et décorateurs du Roi (1685-1764), Paris 1967, pp.605-6, no.41 Bresc-Bautier, Scherf and Draper 2009: Geneviève Bresc-Bautier, Guilhem Scherf and James David Draper (eds.), Cast in Bronze: French Sculpture from Renaissance to Revolution, exh. cat., Metropolitan Museum of Art, New York, Paris 2009, pp.272-3, no.71 Souchal 1977: François Souchal, Françoise de La Moureyre-Gavoty and Henriette Dumuis, French sculptors of the 17th and 18th centuries: the reign of Louis XIV, 3 vols., London, 1977, vol.III, p.274
View more details