Cabinet on stand
attributed to Gerrit Jensen (fl.1667 – London 1715)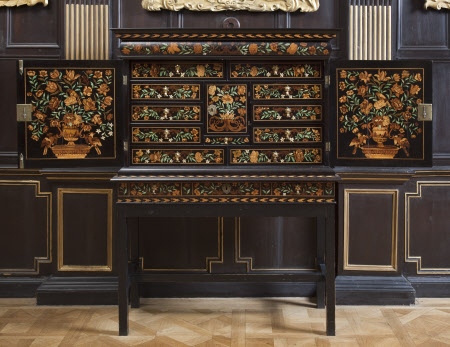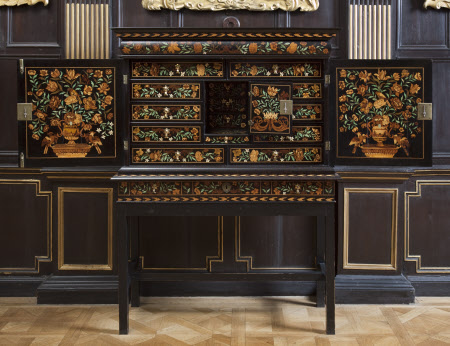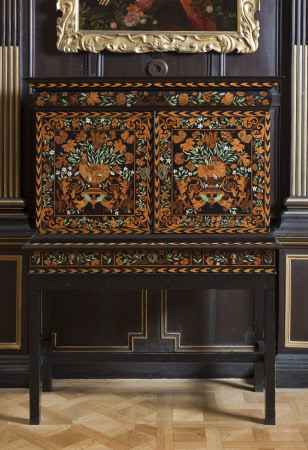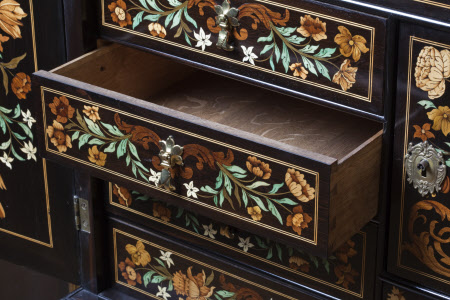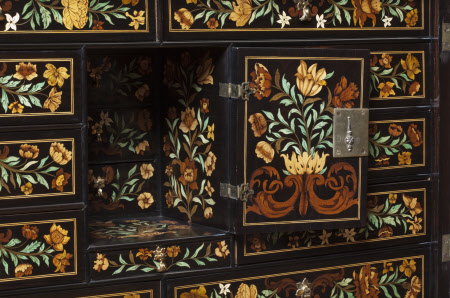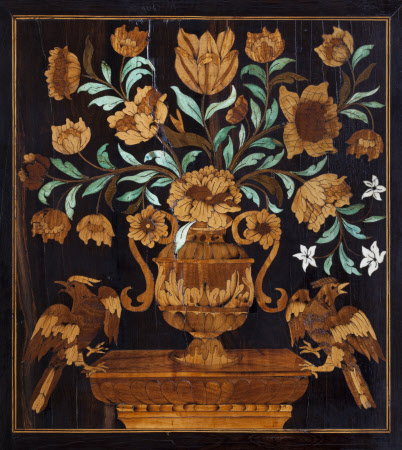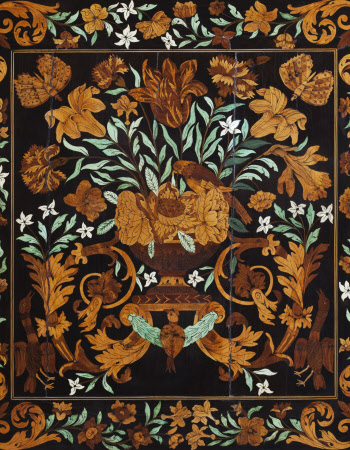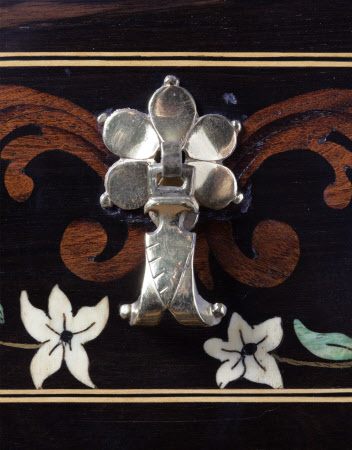 Caption
This exquisite cabinet is attributed to Gerrit Jensen, a Dutch furniture-maker who may have come to London as part of a movement of continental craftsmen after the Great Fire of 1666 to help rebuild the city. By the early 1680s he was cabinet-maker to the royal household and the chief supplier of veneered furniture to the Duke and Duchess of Lauderdale of Ham House in Surrey, where this cabinet can be found. A virtuosic display of craftsmanship, the cabinet opens to reveal ten drawers centred by a smaller door, concealing an additional three small drawers. The surfaces are intricately inlaid with tiny pieces of fruitwood, ivory and stained horn to create a profusion of tulips, pinks, daffodils and other flowers 'framed' by a chevron-patterned border. It is believed that Jensen introduced floral marquetry of this type to England. His use of a variety of woods, veneers and natural dyes give his furniture a vivid and naturalistic appearance, a striking parallel to the heightened realism achieved in Dutch flower painting of the same period. It is not entirely clear what role these box-like cabinets fulfilled in 17th-century households. Some were fitted with elaborate locking mechanisms, performing an important function in keeping money, valuables and important documents secure when domestic interiors provided very little privacy. A statement piece of furniture such as this may have also been used to house collections of curiosities and small precious objects. Certainly, the Duchess of Lauderdale was a formidable collector and connoisseur, and this cabinet is one of many superbly made objects she acquired to impress visitors to Ham House.
Summary
A cabinet on a stand, circa 1675, probably by Gerrit Jensen, veneered with floral marquetry including ebony, walnut, stained fruitwood and ivory. The cabinet opens with a pair of doors to an interior with ten drawers centred by a small door revealing a further three small drawers. Each door is veneered to both sides with a marquetry panel depicting a vase of tulips, pinks, daffodils and other flowers with birds and butterflies raised on an half plinth or acanthus scrolls. The sides of the cabinet are similarly decorated. The panels are set in stringing lines. The cabinet is topped by a convex drawer with floral marquetry, a chevron-patterned border and a cornice. The base consists of a frieze with a long drawer similarly veneered with a border of chevrons, raised on a modern ebonised stand. Gerrit Jensen was supplier of veneered furniture to the Duke and Duchess of Lauderdale as per records of payments from May 1672 until October 1683. Three marquetry tables (NT 1140043, NT 1139923, NT 1139568) and a mirror (NT 1139551) at Ham are also thought to be his work. Gerrit Jensen most probably came from Holland and settled in London before 1667. He is known to have supplied fine marquetry furniture to the court and prestigious patrons from the 1680s. In 1670s floral marquetry was a novelty and according to Reinier Baarsen this furniture at Ham suggests that floral marquetry was the speciality with which Jensen conquered the London clientele a few years later. Most likely a Dutch-born cabinet maker, he would have brought the art of floral marquetry with him, introducing this technique in England such as Cornelius Gole, following Pierre Gole (c.1620-1685) in Paris and Leonardo van der Vinne (active c.1659-1713) in Florence.
Provenance
This cabinet tentatively identified by Peter Thornton with an entry in the Ham House's 1683 inventory where it would have been en suite with a table (NT 1140043), in Lady Maynard's Bedchamber: "One Cabinet, glasse [,] table and stands of Inlaid wood". Acquired in 1948 by HM Government when Sir Lyonel, 4th Bt (1854 – 1952) and Sir Cecil Tollemache, 5th Bt (1886 – 1969) presented Ham House to the National Trust, and entrusted to the care of the Victoria & Albert Museum, until 1990, when returned to the care of the National Trust, and to which ownership was transferred in 2002.
Makers and roles
attributed to Gerrit Jensen (fl.1667 – London 1715), cabinet maker
References
Baarsen 2013: Reinier Baarsen, 'Seventeenth-Century European Cabinet-Making at Ham House" in Christopher Rowell (ed.), Ham House 400 Years of Collecting and Patronage, Yale, 2013, pp.194-203, p.203
View more details