The Nostell Priory 'very large Mahogany Counter' or 'Apothecary's Counter' - 1771
workshop of Thomas Chippendale (fl. 1766 - 1771 when operating without a business partner)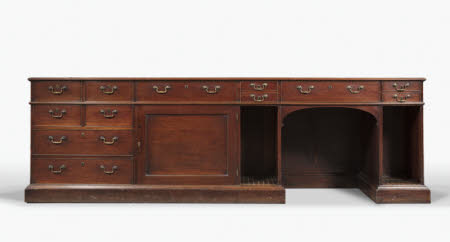 Category
Furniture
Date
6 May 1771 (invoiced)
Materials
Mahogany, oak drawer linings, some deal to carcass, brass, baize
Measurements
87.5 x 278 x 63.5 cm
Place of origin
St. Martin's Lane
Order this image
Collection
Nostell Priory, West Yorkshire (Accredited Museum)
NT 960400
Summary
A mahogany counter, or Apothecary's counter, English, supplied by either Thomas Chippendale (fl. 1766 - 1771 when working with no business partner) or by Chippendale, Haig & Co. (fl. 1771 - 1779). Finished in mahogany on both sides, the back panelled, and designed to stand freely, the rectangular single-piece top with moulded edge above an arrangement of drawers, cupboards and compartments as follows: to the proper right end, four short drawers above two long; to the centre right a long drawer above a paneled cupboard door; to the centre, to the proper left end a long drawer fitted for writing with a baize-lined slide with rising central book-rest above various compartments, a quadrant-form ink, sander and pen-drawer fitted into the drawers proper left lining; this arrangement flanked to either side by two short drawers above a compartment with grooves for upright partitions or folio divisions, the latter now lacking. All raised on a skirting plinth base. The drawers fitted with gilt brass handles and thread escutcheons.
Full description
This remarkable piece of furniture is unique to Nostell Priory: no comparable piece of furniture by Thomas Chippendale is apparently extant. This is because the Winn's envisaged an 'Apothecary's Shop' as part of the improvements made to Nostell under Robert Adam's aegis in the 1760s and 1770s. Sabine Winn was interested in pills, ointments and all kinds of remedies for sickness, and two drawings survive for a room lined with drug cabinets; one of them features a free-standing counter, which accounts for this piece of furniture being finished 'in the round', i.e. with a veneered and paneled back. There is no evidence that this scheme was ever carried out, although the Stables, on which building work began in May 1770, housed a 'Drug Room'. Alternatively, it may have been installed in the 'Taylor's Room', recorded in an inventory of 1818 as containing a 'Shop Board'. Referred to in an undated list, probably written in April or May 1771 as 'sent' and as 'A long mahoy Counter'. Thomas Chippendale's invoice of 6th May 1771 records it as 'A very large Mahogany Counter with folding doors & Shelves drawers AND upright partitions & C, on large castors'. It cost £19 0s 0d. A letter from Thomas Chippendale to Rowland Winn of 9th May 1771 includes 'a large mahogany Counter' in a list of goods which, 'on the 6th we sent...to the George & White Hart in Aldersgate by Henry Heaton's waggon, all very safely packed...' (Entry adapted by Megan Wheeler, February 2018)
Provenance
Purchased by Sir Rowland Winn, 5th Baronet (1739 - 1785) for the 'Apothecary's Shop' at Nostell Priory in May 1771, and thence by descent until transferred from the Treasury in lieu of tax in 2007.
Makers and roles
workshop of Thomas Chippendale (fl. 1766 - 1771 when operating without a business partner), cabinet maker workshop of Chippendale, Haig & Co. (fl. 1771 - 1779), cabinet-maker
References
Gilbert (1978): Christopher Gilbert, The Life & Work of Thomas Chippendale (1978), 2 volumes., Vol. I, pp. 174 & 192; Vol. II, Figures 101 and 108 Boynton and Goodison, 1968: Lindsay Boynton, and Nicholas Goodison. "Thomas Chippendale at Nostell Priory." Furniture History 4 (1968): pp.10-61., pp. 31-3 & 59 Jackson-Stops 1974: Gervase Jackson-Stops. "Pre-Adam furniture designs at Nostell Priory." Furniture History 10 (1974): pp.24-37., Plate 20
View more details