The Nostell Priory 'medal case' - 1767
workshop of Chippendale & Rannie (fl. 1754 - 1766)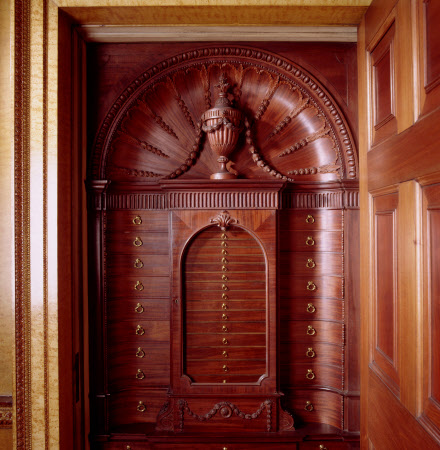 Category
Furniture
Date
1767 (invoiced and in correspondence)
Materials
Mahogany, some of the drawers lined in oak, softwood, gilt brass and glass
Measurements
211.5 x 98.5 cm
Place of origin
St. Martin's Lane
Order this image
Collection
Nostell Priory, West Yorkshire (Accredited Museum)
NT 959788
Summary
A mahogany built-in library and medal case or cabinet, English, 1767, made by Chippendale & Rannie (fl. 1754 - 1766) or Thomas Chippendale (fl. 1766 - 1771 when operating alone with no business partner) for the library at Nostell Priory. Built into a blind door recess and headed by a cove centred by a fluted lidded urn trailing a garland, and with egg and dart-carved edge and husk-carved ribs. The façade breakfront and curved and its upper section topped by a fluted frieze and centred by an arch-glazed lockable door enclosing eighteen graduated small drawers, its pedestal embellished with scrolls and garlands. Flanked to either side by banks of eight short drawers. The lower section with further paneled and beaded cupboard doors and drawers.
Full description
This distinguished cabinet is in very good condition, having been concealed behind a library door since it was installed. First mentioned in accounts on 30th June 1767 as 'a very neat mahogany Cabinet with drawers and a medall case, with a Glass door to ditto elegantly ornamented with carv'd work and made to fit in to the recess of a blanck door £38 10s 0'. In a note of some works to be done, which were compiled before 12th August 1767, 'Stain for the Cabinet in the Library' is mentioned and on 13th August 1767 Chippendale wrote to Sir Rowland that 'I have this day sent to the fly...the bottle of red stain for the meddal case. Please to let the man scrape the Oil of the place to be stain'd very clean and then lay on the stain, if not dark enough at first repeat it twice or there times.' Last mentioned in a list of September 1768 - probably a record of work which was completed or installed - as 'a Mahogany medal case'. One of many pieces of Chippendale furniture which survive in their original position in the library at Nostell, an interior of which Rowland Winn was hugely proud and which he commemorated in a painting - originally intended to hang at his London townhouse 11 St. James's Square - commissioned in the same year that the desk was delivered. Painted by Hugh Douglas Hamilton (1739 - 1808), the picture shows an idealised version of the Library, its width doubled to create a well-proportioned composition. However, he accurately recorded its fittings and original decoration, as well as this famous Chippendale desk [NT 959723]. This is one of the few pieces of furniture to survive with its 18th century oil varnished finish - redder than later tastes dictated - intact. (Entry adapted by Megan Wheeler, January 2018)
Provenance
Purchased by Sir Rowland Winn, 5th Baronet, and referred to in accounts on 30th June 1767. Thence by descent until accepted by HM Treasury in lieu of death duties on the estate of Rowland Winn, 4th Baron Oswald (1916 - 1984), 1986.
Makers and roles
workshop of Chippendale & Rannie (fl. 1754 - 1766), cabinet-maker workshop of Thomas Chippendale (fl. 1766 - 1771 when operating without a business partner), cabinet maker
References
Boynton and Goodison, 1968: Lindsay Boynton, and Nicholas Goodison. "Thomas Chippendale at Nostell Priory." Furniture History 4 (1968): pp.10-61., pp. 17 - 18,19 - 22 and 43 Boynton and Goodison, 1969: Lindsay Boynton and Nicholas Goodison. "The furniture of Thomas Chippendale at Nostell Priory." Burlington Magazine III June 1969: pp.350-60., p. 352 Gilbert (1978): Christopher Gilbert, The Life & Work of Thomas Chippendale (1978), 2 volumes., Vol. I, p. 170, 185 and Vol. II, Figure 99
View more details
Related articles