Sabine, Lady Winn's (1734 - 1798) 'Secretary' - 1766 & 1767
workshop of Chippendale & Rannie (fl. 1754 - 1766)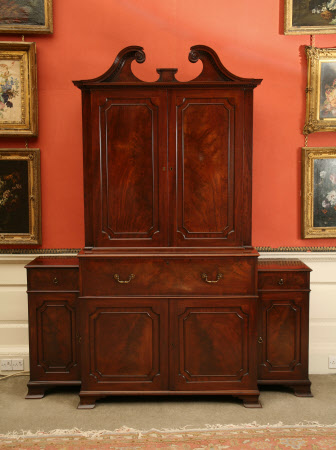 Category
Furniture
Date
24 Jun 1766 (central cabinet) - 17 Feb 1767 (flanking pedestal cabinets)
Materials
Solid mahogany and mahogany veneers, oak carcase, deal, baize, gilt brass
Measurements
236.5 x 197 x 64 cm
Place of origin
St. Martin's Lane
Order this image
Collection
Nostell Priory, West Yorkshire (Accredited Museum)
On show at
Nostell Priory, West Yorkshire, North, National Trust
NT 959783
Summary
A mahogany desk and bookcase, English, 1766, made by Chippendale & Rannie (fl. 1754 - 1766) or Thomas Chippendale (fl. 1766 - 1771) for Sabine, Lady Winn (1734 - 1798), wife of Sir Rowland Winn, 5th Baronet (1739 - 1785), for their London townhouse at 11 St James's Square. The flanking pedestal cupboards supplied the following year. Of solid mahogany and mahogany veneers on an oak carcase, and having a broken scrolling pediment and a dentil cornice above a pair of paneled doors, the panels with concave corners and applied beading. The doors enclosing an arrangement of shelves, drawers and pigeonholes. The lower section with a crossbanded and cockbeaded drawer with falling front enclosing a writing surface, above a further pair of paneled doors enclosing shelves. With base moulding and shaped bracket feet. The flanking pedestal cupboards of the same pattern an interesting instance of subsequent improvement, since they were added to the cupboard, and invoiced separately, in 1767. The rear boards of the main secretaire bookcase are paneled; those to the flanking cupboards are not but are instead covered with paper. Fitted with loop handles which correspond to one of Chippendale's favourite designs.
Full description
The central cupboard appears in accounts on 24th June 1766 as 'A Mahogany Lady secretary made of very fine wood, a bookcase at top, panelld doors with pidgeon holes and drawers in the uper case and a scrowl pediment...£25 0s 0d'. The flanking cupboards appear in accounts on 17th February 1767 as 'To 2 very neat Mahogany Cupboards made of fine wood to stand on each side of the secretary...£5 5s 0d.' This desk and bookcase has been said to illustrate Chippendale's 'seemingly effortless ability to achieve the sober dignity and sincerity which English patrons so much admired'. Its restrained ornament, beautiful proportions and high quality timber are typical of much of Chippendale's work at Nostell. One of the few pieces to survive at Nostell which can be placed in the first phase of Thomas Chippendale's involvement with the Winns, and made for their London house, 11 St James's Square. The date at which it was removed to Nostell Priory is not clear. Unusually, one of the flanking pedestal cabinets is 3.5cm higher than the other. (Entry adapted by Megan Wheeler, January 2018)
Provenance
Purchased by Sir Rowland Winn, 5th Baronet, referred to in accounts on 23rd June 1766 and 17th February 1767 and thence by descent until accepted by HM Treasury in lieu of death duties on the estate of Rowland Winn, 4th Baron Oswald (1916 - 1984), 1986.
Makers and roles
workshop of Chippendale & Rannie (fl. 1754 - 1766), cabinet-maker workshop of Thomas Chippendale (fl. 1766 - 1771 when operating without a business partner), cabinet maker
References
Boynton and Goodison, 1968: Lindsay Boynton, and Nicholas Goodison. "Thomas Chippendale at Nostell Priory." Furniture History 4 (1968): pp.10-61., p. 40 Boynton and Goodison, 1969: Lindsay Boynton and Nicholas Goodison. "The furniture of Thomas Chippendale at Nostell Priory." Burlington Magazine III June 1969: pp.350-60., p. 351 - 2 Gilbert (1978): Christopher Gilbert, The Life & Work of Thomas Chippendale (1978), 2 volumes., Vol. I, p. 171 and 184, and Vol. II, Figure 90 K. Bristol, 'A Tale of Two Sales: Sir Rowland Winn and No.11 St James's Square, London, 1766-1787', in History of Retailing and Consumption 2.1 (2016), 9 – 24. West Yorkshire History Centre, WYW 1352/3/3/1/5/3/63.
View more details