Window cornice
possibly Thomas Chippendale (Otley 1718 - London 1779)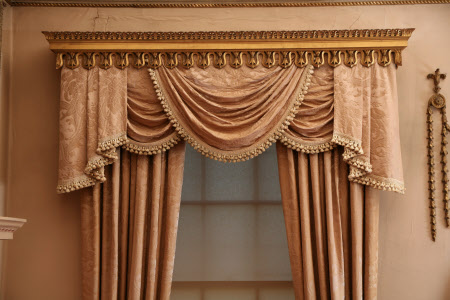 Summary
A window cornice, one of a pair of giltwood window cornices, possibly by Thomas Chippendale (1718 - 1779), circa 1770. Each topped by a band of pierced anthemions above a bellflower-pierced openwork lambrequin frieze.
Full description
It is not clear when these window cornices were supplied, nor who supplied them. They are installed above the windows in the Small Dining Room, a room designed by Paine but redecorated by Adam for use as 'Lady Winn's Blue Dressing Room' in the 1760s. A 'List of Furniture for different Apartments', undated but written prior to 12 August 1767, mentions this room and its furnishings, but does not mention these window cornices, although it mentions an architrave, cornice, curtains and wallpaper. Nor does a list of circa 1770, detailing additional items provided for the room, such as a commode table and a picture frame, mention window cornices. Presumably, then, they were installed in this room at a later date, possibly at a time for which records do not survive. Stylistically, however, they correspond with other window cornices attributed to Thomas Chippendale and made in the 1770s.
Provenance
Probably purchased by Sir Rowland Winn, 5th Baronet, and thence by descent until accepted by HM Treasury in lieu of death duties on the estate of Rowland Winn, 4th Baron Oswald (1916 - 1984), in 1986.
Makers and roles
possibly Thomas Chippendale (Otley 1718 - London 1779) , cabinet maker
References
Gilbert (1978): Christopher Gilbert, The Life & Work of Thomas Chippendale (1978), 2 volumes., Vol. I, pp. 181 - 2 Boynton and Goodison, 1968: Lindsay Boynton, and Nicholas Goodison. "Thomas Chippendale at Nostell Priory." Furniture History 4 (1968): pp.10-61., 17, 19, 29
View more details