The Nostell Priory 'Oval Glass with a Glass boarder'd frame' - 1767
Thomas Chippendale (fl. 1766 - 1771 when operating without a business partner)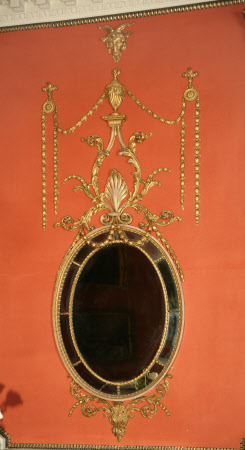 Category
Mirrors
Date
2 Nov 1767 (invoiced)
Materials
Softwood, mirror glass, gesso, gilding
Measurements
254 x 116 x 12 cm
Place of origin
St. Martin's Lane
Order this image
Collection
Nostell Priory, West Yorkshire (Accredited Museum)
NT 959779.1
Summary
A pier glass, one of a pair of carved giltwood pier glasses, English, designed and made by Thomas Chippendale (fl. 1766 - 1771 when operating without a business partner) in 1767, for Sabine Winn's (1734 - 1798) Bedroom (now the Drawing Room) and her Dressing Room or Antechamber (now the Little Dining Room), where they both still hang. This the mirror made for her Dressing Room. Fixed to the wall beneath a separate goat's mask, and an elaborate Neo-Classical cresting including an urn, an athemion, bellflowers, husk swags and scrolls. The glass oval and in a narrow beaded frame with a slender divided border. The apron of foliated scrolls.
Full description
These mirror glasses, which remarkably remain in the rooms for which they were intended, are known to have been designed by Thomas Chippendale, because a drawing of them survives on the back of a letter from Chippendale to Rowland Winn of 23rd September 1767. There are slight differences in the design of the executed mirrors. In 'A List of Furniture for different Appartments', undated but written before the 12th August 1767, Chippendale notes under 'My Ly Ante Chamber', 'an Oval Glass with a Glass boarder'd frame the Mouldings and Ornamental parts Gilt in burnish Gold.' An 'Oval Glass boarder'd frame Gilt in burnish'd gold' is listed under 'Ly Bed Chamber'. Interestingly, the mirror glass and borders already belonged to Sir Rowland, and he sent them to London sometime after the 12th August; they arrived with Chippendale on the 26th August. By 1st October, Chippendale reported that the frames were 'very forward Glass & border all Cutt', and they were sent to Nostell at the beginning of November. Accounts of the 2nd November 1767 record '2 Oval Glass frames richly carv'd and Gilt in Burnish Gold and Glass border'd and Cutting and fixing your own Glasses in ditto £50-0-0.' The mirror intended for Lady Winn's Ante Chamber or Dressing Room was to hang against blue Verditure paper embellished with a gadrooned gilt border, and with the oil painting of Cleopatra after Guido Reni for which Chippendale also made a picture frame and which still hangs at Nostell [NT 960076]. The mirror intended for Lady Winn's bedchamber was to hang against 'India', or Chinese, wallpaper. Featuring urns, goat heads, anthemion and masks, these are a very early - probably the earliest - expression by Chippendale of the full Neo-Classical style. (Entry adapted by Megan Wheeler, February 2018)
Provenance
Designed by Thomas Chippendale (1718 - 1779) and delivered to Nostell Priory in November 1767. Purchased by Sir Rowland Winn, 5th Baronet (d. 1785), thence by descent until accepted by HM Treasury in lieu of death duties on the estate of Rowland Winn, 4th Baron Oswald (1916 - 1984), 1986.
Makers and roles
Thomas Chippendale (fl. 1766 - 1771 when operating without a business partner), designer and maker
References
Boynton and Goodison, 1969: Lindsay Boynton and Nicholas Goodison. "The furniture of Thomas Chippendale at Nostell Priory." Burlington Magazine III June 1969: pp.350-60., pp. 352 - 5 Boynton and Goodison, 1968: Lindsay Boynton, and Nicholas Goodison. "Thomas Chippendale at Nostell Priory." Furniture History 4 (1968): pp.10-61., pp. 13, 17 - 19, 21 - 22, 45 Gilbert (1978): Christopher Gilbert, The Life & Work of Thomas Chippendale (1978), 2 volumes., Vol. I, pp. 172 & 177, Vol. II, Figures 281 and 282
View more details