The Nostell Priory '...cloaths press of exceeding fine wood' - 1766/7
workshop of Thomas Chippendale (fl. 1766 - 1771 when operating without a business partner)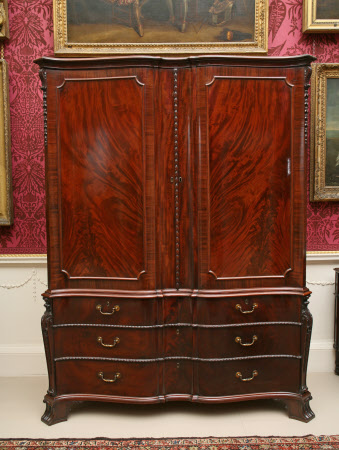 Category
Furniture
Date
27 Dec 1766 (reported to be finished) - 30 Jun 1767 (invoiced)
Materials
Mahogany, softwood carcase and slides, oak-lined drawers, marbled paper, gilt brass
Measurements
219 x 166 x 73 cm
Place of origin
St. Martin's Lane
Order this image
Collection
Nostell Priory, West Yorkshire (Accredited Museum)
NT 959763
Summary
A mahogany clothes press, English, 1766/1767, made by Thomas Chippendale (fl. 1766 - 1771 when working alone with no business partner) for Sabine Winn, the wife of Rowland Winn, 5th Baronet (1739 - 1785), and described by Chippendale as 'my Lady's Cloaths press'. Of extremely fine mahogany, with a concave-centred serpentine cornice with canted corners, above a pair of doors with canted outer edges topped by scrolling corbels above a drop of pendant husks. The crossbanded doors with applied 'panel' beadings with concave corners, the joint between the two doors with applied harebells. Enclosing seven serpentine-fronted pine slides covered in original marbled paper. The lower section of three long oak-lined drawers between corners applied with acanthus, scroll and harebell-carved truss corbels. With a serpentine base moulding and raised on decorated bracket feet strengthened on their inner faces with laminated blocks. The keyholes with decorated brass thread escutcheons; the bale handles to the drawers with central knop and scroll-cast ends. The slides originally fitted with aprons of green baize to prevent dust settling on the contents. These are now lacking. The marbled paper to the slides is the same as that to the slides of the green japanned clothes press at Nostell [NT 959752].
Full description
This piece of furniture cost Sir Rowland £37 0s 0d and was, as such, the most expensive clothes press Thomas Chippendale ever supplied. It has been described by Christopher Gilbert as displaying 'a majestic maturity rarely achieved by English cabinet makers'. The accounts of 30th June 1767 record 'a very large mahogany cloaths press of exceeding fine wood in a commode shape with 7 shelves in the upper part lin'd with paper and green bays aprons, and 4 drawers in the under part with best wrought handles to ditto.' It was made at the same time as the library table, and Chippendale wrote to Sir Rowland sometime before 27th December 1766 to say that both were finished, but did not send them immediately. These are the pieces that Sir Rowland famously wanted to be shipped to Yorkshire by water to reduce the cost of transport, but Chippendale advised that 'they are very good things and if the water should hurt them I should be very sorry', and that he would prefer to send them by land because 'the damp of the ship affects the drawers and locks of good work which is made very close' and 'some of the best work that can be done.' The hinges for the doors were sent to Nostell on the 13th August 1767, and were made specially for the piece at a cost of 6s. Chippendale describes this as a 'Mahogany Commode shape Cloaths press'. This is one of the finest pieces of furniture made by Chippendale, extremely 'confident in design' and made from 'ravishing' cuts of timber. (Entry adapted by Megan Wheeler, February 2018)
Provenance
Purchased by Sir Rowland Winn (1739 - 1785), 5th Baronet, and invoiced in June 1767. Thence by descent until accepted by HM Treasury in lieu of death duties on the estate of Rowland Winn, 4th Baron Oswald (1916 - 1984), 1986.
Makers and roles
workshop of Thomas Chippendale (fl. 1766 - 1771 when operating without a business partner), cabinet maker
References
Boynton and Goodison, 1969: Lindsay Boynton and Nicholas Goodison. "The furniture of Thomas Chippendale at Nostell Priory." Burlington Magazine III June 1969: pp.350-60., p. 352 Boynton and Goodison, 1968: Lindsay Boynton, and Nicholas Goodison. "Thomas Chippendale at Nostell Priory." Furniture History 4 (1968): pp.10-61., pp. 15 - 16, 19 - 20, 21, Boynton and Goodison, 1969: Lindsay Boynton and Nicholas Goodison, 'The furniture of Thomas Chippendale at Nostell Priory', Burlington Magazine III, May 1969: pp. 281-5., p. 282, Figure 23 Gilbert (1978): Christopher Gilbert, The Life & Work of Thomas Chippendale (1978), 2 volumes., Gol. I, pp. 169, 175, 185 and Vol. II, pp. 136 - 7, Figures 245 - 247.
View more details