The Nostell Priory Chymney Glass in A Glass border'd frame neatly Carv'd and finished Green and Gold - 1771
workshop of Thomas Chippendale (fl. 1766 - 1771 when operating without a business partner)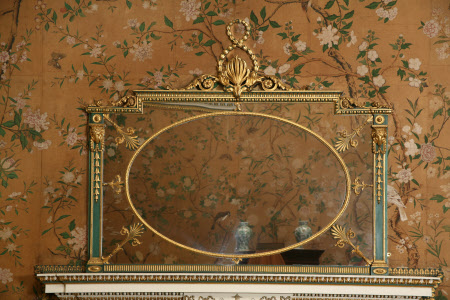 Category
Mirrors
Date
29 Jul 1771 (invoiced)
Materials
Carved limewood, softwood, paint, gilding, mirror glass
Measurements
128 x 145 x 7 cm
Place of origin
St. Martin's Lane
Order this image
Collection
Nostell Priory, West Yorkshire (Accredited Museum)
NT 959757
Summary
A painted and giltwood chimney glass, supplied by either Thomas Chippendale (fl. 1766 - 1771) or Chippendale, Haig & Co. (fl. 1771 - 1779) to Nostell Priory in the early summer of 1771. The frame an flat-arched rectangle, but centred by an oval mirror plate within borders divided by fillets carved as anthemion. The mirrors toprail carved with egg and dart, and topped by an elaborate giltwood cresting of anthemion between foliated scrolls and beneath an entwined garland of husks; the pilastered uprights each topped by a ram's head issuing a garland of husks, above a plinth carved with a floral patera; the base rail reeded.
Full description
Mentioned in an unheaded list of what is presumed to be work yet to be completed for the 'small room ajoining' (now a bathroom) the 'Alcove Bedchamber' as 'a Chimney Glass in a Carved Green and Gold frame'. It is again mentioned in a list headed 'Sir Rowland Winn' under a section called 'Goods unfinish'd', probably written in April-May 1771 as 'A Green & Gold Chimney Glass'. When Chippendale invoiced for it on 29th July 1771, it was called 'A large Chymney Glass in A Glass border'd frame neatly Carv'd and finished Green and Gold as the other'. Made to match the glamorous green and gilt japanned bed and dressing room furniture which was installed in the best bedchamber and dressing room, and the small rooms adjoining, in 1771. This mirror has been relocated to what is now the State Dressing Room. (Entry adapted by Megan Wheeler, February 2018)
Provenance
Purchased by Sir Rowland Winn, 5th Baronet (1739 - 1785) for the small room adjoining the State Bedchamber and invoiced for by Chippendale on 29th July 1771. Thence by descent, until accepted by HM Treasury in lieu of death duties on the estate of Rowland Winn, 4th Baron Oswald (1916 - 1984), 1986.
Makers and roles
workshop of Thomas Chippendale (fl. 1766 - 1771 when operating without a business partner), cabinet-maker workshop of Chippendale, Haig & Co. (fl. 1771 - 1779), cabinet-maker
References
Gilbert (1978): Christopher Gilbert, The Life & Work of Thomas Chippendale (1978), 2 volumes., Vol. I, p. 172 and p. 192, Vol. II, Plate 308 Boynton and Goodison, 1968: Lindsay Boynton, and Nicholas Goodison. "Thomas Chippendale at Nostell Priory." Furniture History 4 (1968): pp.10-61., pp. 29, 32, 60 Boynton and Goodison, 1969: Lindsay Boynton and Nicholas Goodison. "The furniture of Thomas Chippendale at Nostell Priory." Burlington Magazine III June 1969: pp.350-60., p. 359 and Plate 29
View more details