The Nostell Priory 'Dome Bedstead Japand green & Gold' - 1771
workshop of Thomas Chippendale (fl. 1766 - 1771 when operating without a business partner)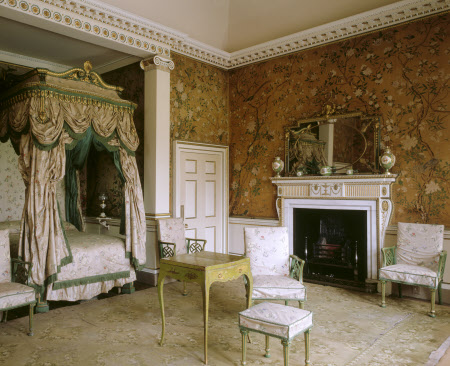 Category
Furniture
Date
6 May 1771 (dispatched from London) - circa 1981 (the hangings)
Materials
Carved mahogany, limewood, beech, softwood, iron, paint, gilding, 20th century hand-painted cotton chintz, silk
Place of origin
St. Martin's Lane
Order this image
Collection
Nostell Priory, West Yorkshire (Accredited Museum)
NT 959755
Summary
A green-painted and parcel-gilt tester bed, made by either Thomas Chippendale (fl. 1766 - 1771) or Chippendale, Haig & Co. (fl. 1771 - 1779) and delivered to Nostell Priory in May 1771. Topped by a recessed cornice with a swan-neck pediment to each side and the foot, centred by an anthemion above a frieze lined with later hand-painted cotton chintz. Each cornice with an apron of parcel-gilt pierced lambrequin and with a pendant anthemion at each corner. The tester raised on spirally-fluted posts atop paneled feet set at an angle. Upholstered in later hand-painted cotton chintz lined with green silk.
Full description
Still in the alcove in the room for which it was made (in 1771 the now State Dressing Room was the Alcove Bedchamber) this remarkable bed has angled footposts drawn closer together than would usually be the case, probably because Sir Rowland Winn asked Chippendale to make a bed which gave his guests and their servants 'as Much room as posable to pass by'. Intended for the Alcove Bedchamber (now the State Dressing Room), it is listed in an undated account of what is presumed to be work that was not yet complete (circa 1770) as 'a dome bedstead Japan'd green & Gold, the foot part of the bedstead Made in Shape and to bring feet posts as Near as posable together to give as Much room as posable to pass by, A Chints furniture and the Curtains lined with green Persian, the teaster head Cloth inside Valen(c)es fringed with a Silk fringe & the Curtains to draw in drapa(r)y with a Chints Counterpain Made with fall fringed on three sides and beding Compleat'. Invoiced for in an account dated 6th May 1771, where described as 'To A Dome Bedstead with Rich Carv'd Cornices, feet Posts And Sundry other ornaments, Japan'd Green & Gold with Shap'd foot Rail &c on Castors'. It cost £54.10s.0d and, as such, was one of the most expensive pieces of furniture supplied by Chippendale to Nostell. A letter of 9th May 1771 records that 'A Green & Gold Bedstead, Chintz furniture & Bedding Complete' was dispatched from the George & White Hart in Aldersgate, on 'Henry Heatons Waggon' on the 6th May The lambrequins to the cornice match those on the arched window cornice. Chippendale did not supply the fabric, which may have been acquired twenty years earlier by the 4th Baronet (1706 - 1765). The latter wrote to Sir Edwin Lascelles of Harewood House in December 1746 about a chintz fabric for 'the bed and furniture of one of the apartments in the new house', which was purchased through Sir Edwin's brother in Bengal. The present fabric was specially painted for the National Trust in 1982, replacing drapery damaged by smoke in the fire. (Entry adapted by Megan Wheeler, February 2018)
Provenance
Purchased by Sir Rowland Winn, 5th Baronet (1739 - 1785) and dispatched from London on 6th May 1771. Thence by descent, until accepted by HM Treasury in lieu of death duties on the estate of Rowland Winn, 4th Baron Oswald (1916 - 1984), in 1986.
Credit line
(Megan Wheeler, 2017)
Makers and roles
workshop of Thomas Chippendale (fl. 1766 - 1771 when operating without a business partner), cabinet-maker workshop of Chippendale, Haig & Co. (fl. 1771 - 1779), cabinet-maker
References
Boynton and Goodison, 1969: Lindsay Boynton and Nicholas Goodison. "The furniture of Thomas Chippendale at Nostell Priory." Burlington Magazine III June 1969: pp.350-60., pp. 356 - 8; Plate 25 Boynton and Goodison, 1969: Lindsay Boynton and Nicholas Goodison, 'The furniture of Thomas Chippendale at Nostell Priory', Burlington Magazine III, May 1969: pp. 281-5., p. 282 Boynton and Goodison, 1968: Lindsay Boynton, and Nicholas Goodison. "Thomas Chippendale at Nostell Priory." Furniture History 4 (1968): pp.10-61., pp. 28, 31, 58 Gilbert (1978): Christopher Gilbert, The Life & Work of Thomas Chippendale (1978), 2 volumes., Vol. I, pp. 182, 192; Vol. II, Plate 28
View more details