The Nostell Priory 'peir [sic] Glass...in A very large border'd Chinese frame Richly Carv'd & finish'd green & Gold' - 1771
workshop of Thomas Chippendale (fl. 1766 - 1771 when operating without a business partner)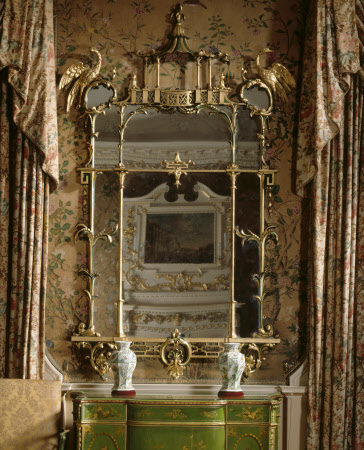 Category
Mirrors
Date
Jul 1771 (invoiced) - Sep 1771 (replacement plates delivered to Nostell)
Materials
Softwood, limewood, gesso, paint, gilding, mirror glass
Measurements
268 x 176 x 17 cm
Place of origin
St. Martin's Lane
Order this image
Collection
Nostell Priory, West Yorkshire (Accredited Museum)
NT 959753
Summary
A large green-painted and parcel-gilt pier glass, part of a set of green-japanned furniture supplied to Nostell Priory by either Thomas Chippendale (fl. 1766 - 1771) or Chippendale, Haig & Co. (fl. 1771 - 1779) in 1771, for the Anteroom South-East Corner (now the State Bedroom) and the Alcove Bed Chamber (now the State Dressing Room). This pier glass topped by an elaborate Chinese pagoda cresting fronted by Chinese lattice-work paling. The mirror's arched shoulders perched on by giltwood ho-ho birds. The mirror's apron formed from giltwood 'C'-scrolls, more lattice-work, and leaves, and centred by an anthemion. The mirror plate divided by slender moulded bars carved with upspringing foliage, seed pods and scrolls.
Full description
This exuberant Rococo and Chinoiserie pier glass cost Sir Rowland Winn, 5th Baronet (1739 - 1785) £68 and, as such, was - when ordered - one of the most expensive pieces of furniture Thomas Chippendale supplied to Nostell Priory. Delivered by carriage sometime between July and September 1771, however, two pieces of glass were broken, and the cost of the replacement glass - which was £29 - brought the total expenditure on this mirror to £97, making it the most expensive individual piece of Chippendale furniture in the house. It is remarkably large and ornate, and one of the finest Chippendale mirrors to survive. There are no exact comparisons for it in Chippendale's Director, but elements of its design are to be found in its plates. -- An unheaded list written circa 1770 lists under the subtitle 'Ante Room South East Corner', 'A pier Glass in Chineas Carved frame don in Green and Gold with Glass borders'. Noted on a list written circa April - May 1771 as 'to finish', 'A pier Glass for the Anti room'. Invoiced on 1st July 1771 as 'A peir [sic] Glass with Lead (this is variously transcribed as either 'Head' or 'Lead'] Plate in A very large border'd Chinese frame Richly Carv'd & finish'd green & Gold...£68 0s 0d'. The replacement plates invoiced on 30 September 1771: '2 Glasses for the large Peer frame broke in Carriage...£29 0s 0d'. (Entry adapted by Megan Wheeler, February 2018)
Provenance
Purchased by Sir Rowland Winn, 5th Baronet, on 1st July 1771 and thence by descent until accepted by HM Treasury in lieu of death duties on the estate of Rowland Winn, 4th Baron Oswald (1916 - 1984), in 1986.
Makers and roles
workshop of Thomas Chippendale (fl. 1766 - 1771 when operating without a business partner), cabinet-maker workshop of Chippendale, Haig & Co. (fl. 1771 - 1779), cabinet-maker
References
Boynton and Goodison, 1969: Lindsay Boynton and Nicholas Goodison. "The furniture of Thomas Chippendale at Nostell Priory." Burlington Magazine III June 1969: pp.350-60., p. 359 Boynton and Goodison, 1969: Lindsay Boynton and Nicholas Goodison, 'The furniture of Thomas Chippendale at Nostell Priory', Burlington Magazine III, May 1969: pp. 281-5., p. 282 Boynton and Goodison, 1968: Lindsay Boynton, and Nicholas Goodison. "Thomas Chippendale at Nostell Priory." Furniture History 4 (1968): pp.10-61., pp. 28, 32, 59 - 60 Gilbert (1978): Christopher Gilbert, The Life & Work of Thomas Chippendale (1978), 2 volumes., Vol. I, pp. 171, 182 & 192, Colour Plate 6; Vol. II, Figure 273
View more details