The Nostell Priory Commode table with foulding doors and drawers within Japan'd green and Gold - 1771
workshop of Thomas Chippendale (fl. 1766 - 1771 when operating without a business partner)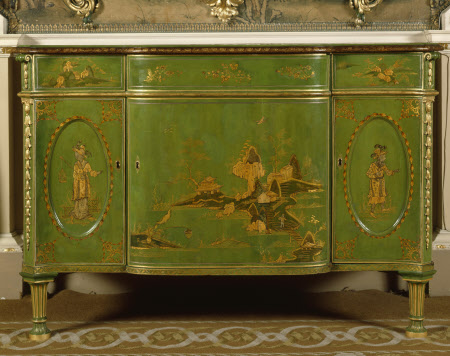 Category
Furniture
Date
1771
Materials
Japanning, deal, mahogany, gesso, paint, brass, gilt brass, gilt
Measurements
89 x 148 x 63 cm
Place of origin
St. Martin's Lane
Order this image
Collection
Nostell Priory, West Yorkshire (Accredited Museum)
NT 959751
Summary
A green, gold and silver-japanned dressing commode, English, made by either Thomas Chippendale (fl. 1766 - 1771) or Chippendale, Haig & Co. (fl. 1771 - 1779) for the 'Alcove Bedchamber' (now the State Dressing Room) at Nostell Priory in 1771, part of a wider set that furnished these rooms and the adjoining chambers. Of bow-breakfront serpentine form, the top with outswept front corners and moulded edge above three drawers, the central drawer wider, lined with mahogany and fitted as a dressing drawer. All above three cupboard doors, each enclosing four - also decorated - drawers, with gilt brass handles. The angles with applied bellflowers. On turned, tapering and fluted legs with moulded feet. The drawers coated with red stain. The front feet with unusual elongated wedges fixed to the underside of the baseboards.
Full description
This remarkable dressing commode was described in an unheaded list of circa 1770 as intended for the Alcove Bedchamber, and as 'A Commode table with foulding doors and drawers within Japan'd green and Gold'. It is sometimes identified as 'A Commode table for the pier with a dressing drawer Japan'd green and gold' which appears on the same list for the Ante Room South East Corner but that is more likely to be NT 959750, which has no 'foulding doors' which contain drawers. In a list which can be ascribed to April or May 1771, 'a Commode Table with a drawer in the Upper Part & folding doors below & drawers within to Stand facing the Chymney' is possibly this commode and was, at the time, unfinished. However, the picture is slightly confused, because neither of these two pieces are otherwise traceable in accounts, or amongst lists of pieces delivered in May 1771. Three pieces of case furniture survive from a total of five which are mentioned in Chippendale's lists: the press cupboard, this commode and a table fitted with a dressing drawer beneath a writing slide. In the inventory of Nostell in 1806 this is probably the piece of furniture listed as 'An Elegant Pier Commode to correspond with folding Doors inclosing variety of drawers and leather cover'. The 'ladies dressing table and secretaire slide over drawers and variety of dressing apparatus and leather cover' is probably NT 959750. (Entry adapted by Megan Wheeler, March 2018)
Provenance
Purchased by Sir Rowland Winn, 5th Baronet (1739 - 1785) in July 1771 and thence by descent until accepted by HM Treasury in lieu of death duties on the estate of Rowland Winn, 4th Baron Oswald (1916 - 1984), in 1986.
Makers and roles
workshop of Thomas Chippendale (fl. 1766 - 1771 when operating without a business partner), cabinet-maker workshop of Chippendale, Haig & Co. (fl. 1771 - 1779), cabinet-maker
Exhibition history
Thomas Chippendale, 1718-1779: a celebration of British craftsmanship and design, Leeds City Museum, Leeds, 2018
References
Boynton and Goodison, 1969: Lindsay Boynton and Nicholas Goodison. "The furniture of Thomas Chippendale at Nostell Priory." Burlington Magazine III June 1969: pp.350-60., p. 359 & Figure 28 Boynton and Goodison, 1968: Lindsay Boynton, and Nicholas Goodison. "Thomas Chippendale at Nostell Priory." Furniture History 4 (1968): pp.10-61., pp. 28, 32 and 59 Coleridge, 1968: Anthony Coleridge, Chippendale furniture: the work of Thomas Chippendale and his Contemporaries in the Rococo Taste. London: Faber, 1968., Plate 351 Boynton and Goodison, 1969: Lindsay Boynton and Nicholas Goodison, 'The furniture of Thomas Chippendale at Nostell Priory', Burlington Magazine III, May 1969: pp. 281-5., p. 282 Gilbert (1978): Christopher Gilbert, The Life & Work of Thomas Chippendale (1978), 2 volumes., Vol. II, Figure 214 Macquoid, P. and Edwards, R., The Dictionary of English Furniture (Softback Edition, 1986), 3 vols., Vol. I, pp. 171, 182 & 192 and Colour Plate 6; Vol. II, p. 110 and Figure 16
View more details