Cabinet on stand
previously catalogued as by Pierre Gole (c.1620-1684)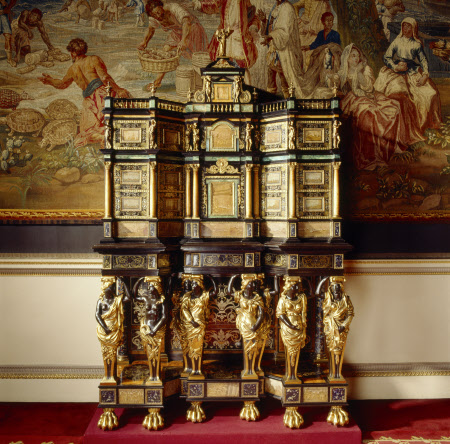 Category
Furniture
Date
circa 1670
Materials
Ebony, pietra paesina, stained horn, tortoiseshell, brass, tin, gilt bronze, oak, deal, gilt wood, bronzed wood, pewter, glass
Measurements
223.0 x 140.0 x 53.0 cm
Place of origin
Paris
Order this image
Collection
Nostell Priory, West Yorkshire (Accredited Museum)
On show at
Nostell Priory, West Yorkshire, North, National Trust
NT 959731
Summary
An ebony and hard-stone cabinet-on-stand, previously attributed to Pierre Gole (c.1620-1684), possibly made for a courtier of Louis XIV, France, c.1670 with later alterations. The cabinet with a concave colonnaded centre fitted with twenty-four various-sized drawers is surrounding a central cupboard enclosing a mirror-lined and stepped interior. It is panelled with light brown marble, so-called pietra paesina, imitating buildings in landscapes. The borders are inlaid with scrolling foliage of brass and pewter. The stepped top is flanked by trumpeting angel finials made of gilt-bronze, and the stand supported on eight ebonised and parcel-gilt caryatids. The back is inlaid with foliate marquetry, and the base sits on gilt-wood paw feet. An heirloom of the d'Hervat family, the cabinet was brought to Nostell Priory by the 5th Baronet's wife in 1781.
Full description
An ebony and hard-stone cabinet-on-stand possibly made for or acquired by Barthélemy Hervart (1607-1676), a courtier of Louis XIV, or another member of the powerful banking family with origins in Augsburg; Paris, c.1670, with later alterations. The cabinet was brought to Nostell Priory by Sir Roland Winn, 5th Baronet's wife, Sabine d'Hervart, in 1781. It was shipped from her family house in Vevey, Switzerland on the death of her mother, Baroness d'Hervart. The cabinet was previously attributed to Pierre Gole (c.1620-1684), although it may have been made by one of his Parisian contemporaries. Alexandre-Jean Oppenordt, Jean Harmant, Renaud Gaudron and indeed Louis XIV's principal cabinet maker of the 1670, the Gobelins based Domenico Cucci, produced cabinets of the kind that resembled triumphal arches. Louis XIV had four of such cabinets – all of which are now lost – made for the Apollo Gallery at the Louvre. One of these, delivered by Pierre Gole was engraved and does indeed display stylistic similarities to the cabinet at Nostell. However, technically, the Nostell cabinet lacks the refinement of other works attribute to Gole's workshop. Cabinets, such as the present one, were intended to contain, though not to display, collections of gems, camoes, medals and other precious objects. A cabinet with similar pietre paesina panels framed by metal marquetry and on a stand of gilt wood figures exists at Vaux-le-Vicomte. In the 1806 and 1818 Nostell Priory inventories, the cabinet is listed under the `Entrance Hall' or Top Hall, which was being used as a store room at the time. It is first recorded in the Tapestry Room in 1885, where it remains to this day, but may well have been in the room since the 1820s.
Provenance
Owned by the D'Hervat family and brought to Nostell Priory in 1781 as a consequence of the marriage of Sabine Louise (d. 1798), daughter of Baron d'Hervat of Vevey, to Sir Rowland Winn, 5th Baronet (1739 - 1785) in 1761. Thence by descent, and accepted by HM Treasury in lieu of death duties on the estate of Rowland Winn, 4th Baron Oswald (1916 - 1984), 1986.
Makers and roles
previously catalogued as by Pierre Gole (c.1620-1684), cabinet maker
References
Raikes and Knox 2001: Sophie Raikes and Tim Knox, Nostell Priory, Yorkshire (official guide book), London 2001
View more details