Window cornice
possibly Chippendale, Haig & Co. (fl. 1771 - 1779)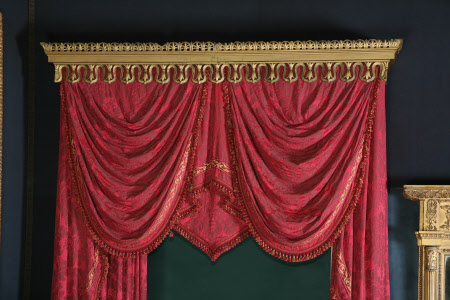 Category
Fixtures and fittings
Date
circa 1775 - circa 1785
Materials
Carved softwood, paint, gilding
Measurements
20 x 190 x 30 cm
Place of origin
St. Martin's Lane
Order this image
Collection
Nostell Priory, West Yorkshire (Accredited Museum)
NT 959730.2
Summary
A set of three giltwood window cornices, possibly by Chippendale, Haig & Co (fl. 1771 - 1779) or Haig & Chippendale (fl. 1779 - 1796). Each topped by a band of pierced anthemions above a pierced or openwork lambrequin frieze.
Full description
It is not clear when these window cornices were supplied, nor who supplied them. They are installed above the windows in the Tapestry Room, which was the Drawing Room in the 18th century. Robert Adam designed this room, marking out the ceiling decorations as early as October 1767. The central panel to the ceiling, painted by Zucchi, was installed at the end of 1774, and Joseph Rose billed for the surrounding plasterwork. A letter of Robert Adam's reveals that in April 1767, it was intended for the walls to be hung with damask. Surviving records show that the walls were not lined by 1781 - Lady Winn had yet to chose the fabrics - and the room was still not finished when Sir Rowland Winn died in 1785. In the inventory of 1818, it is listed as the 'Unfinished Drawing Room'. The decoration was only completed in the 1820s by Charles Winn (d. 1874) and the decorator Thomas Ward, who hung the walls with tapestries between 1822 and 1824. Ward also repainted some of the decorative parts of the ceiling. There is no specific reference to these window cornices in the surviving documentation, which is patchy for the period 1771 to 1785. And how these cornices fit into the confused and drawn-out development of this room is also unclear, since it seems unlikely that they would have been installed prior to the lining of the walls. The 1806 inventory specifically lists cornices in only two rooms at Nostell - the Saloon and the Ante-Room - so it is not possible to verify that these cornices were installed in this room prior to Ward's modifications of the 1820s. However, the lambrequins carved to the bottom edge closely resemble those to the cornices in the State Bedroom and the Small Drawing Room - also attributable to Chippendale - and so it is possible that they were the product of his workshop, or that of his son after his death in 1779. (Entry adapted by Megan Wheeler, March 2018)
Provenance
Probably purchased by Sir Rowland Winn, 5th Baronet and thence by descent until accepted by HM Treasury in lieu of death duties on the estate of Rowland Winn, 4th Baron Oswald (1916 - 1984), 1986.
Makers and roles
possibly Chippendale, Haig & Co. (fl. 1771 - 1779), cabinet-maker possibly Haig & Chippendale (fl. 1779 - 1796), cabinet-maker
References
Gilbert (1978): Christopher Gilbert, The Life & Work of Thomas Chippendale (1978), 2 volumes., Volume I, p. 173; Volume II, Figure 519 Boynton and Goodison, 1969: Lindsay Boynton and Nicholas Goodison, 'The furniture of Thomas Chippendale at Nostell Priory', Burlington Magazine III, May 1969: pp. 281-5. Boynton and Goodison, 1968: Lindsay Boynton, and Nicholas Goodison. "Thomas Chippendale at Nostell Priory." Furniture History 4 (1968): pp.10-61. Gilbert, 1990: Christopher Gilbert. "New light on the furnishing of Nostell Priory." Furniture History 26 (1990): 53 - 66, 58
View more details