The Nostell Priory 'very neat mahogany drawing Table of very fine wood...' - 1767
workshop of Thomas Chippendale (fl. 1766 - 1771 when operating without a business partner)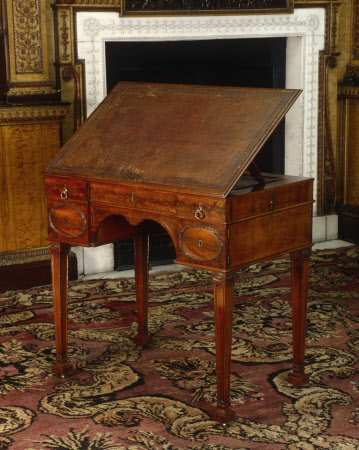 Summary
A mahogany artist's or drawing table, English, supplied by Thomas Chippendale (fl. 1766 - 1771 when operating without a business partner) for Nostell Priory in 1767. Having a rectangular leather-lined top hinged at the front and adjusting on a easel support. The front with frieze faced as three drawers, above a central double-arched kneehole flanked to either side by a cupboard door applied with foliate beading to form a decorative oval panel. Each door enclosing four short drawers fitted with gilt brass ring handles. One end of the table fitted with a long drawer covered with a baize-lined slide. Raised on four paterae-headed tapering square-section paneled legs terminating in moulded square feet concealing castors. The locks to the cupboard doors with centrally-sited keyholes are similar to those to the Library Table (NT 959723).
Full description
Described in an invoice of 30th June 1767 as 'a very neat mahogany drawing Table of very fine wood the top made to rise and doors with drawers within at each end and a large drawer at the end with a slider the top cover'd with green velvet £8 8s 0d'. On 5th August 1767, Thomas Chippendale Junior wrote to Rowland Winn that he 'went to Mr Ramsden for the glass for the drawing table, but it is not yet finish'd, he being oblig'd to make two cases as one of them he thought was not good enough.' The glass - presumably a perspective glass - was sent on 13th August 1767. (Entry adapted by Megan Wheeler, March 2018)
Provenance
Purchased by Sir Rowland Winn, 5th Baronet (1739 - 1785) in 1767 and thence by descent until accepted by HM Treasury in lieu of death duties on the estate of Rowland Winn, 4th Baron Oswald (1916 - 1984), 1986.
Makers and roles
workshop of Thomas Chippendale (fl. 1766 - 1771 when operating without a business partner), cabinet-maker
References
Boynton and Goodison, 1969: Lindsay Boynton and Nicholas Goodison. "The furniture of Thomas Chippendale at Nostell Priory." Burlington Magazine III June 1969: pp.350-60., p. 352 Boynton and Goodison, 1969: Lindsay Boynton and Nicholas Goodison, 'The furniture of Thomas Chippendale at Nostell Priory', Burlington Magazine III, May 1969: pp. 281-5., p. 282 and Figure 25 Boynton and Goodison, 1968: Lindsay Boynton, and Nicholas Goodison. "Thomas Chippendale at Nostell Priory." Furniture History 4 (1968): pp.10-61., pp. 16, 19 - 21, 43 Gilbert (1978): Christopher Gilbert, The Life & Work of Thomas Chippendale (1978), 2 volumes., Vol. I, pp. 170 and 183; Vol. II, p. 217, Figure 396
View more details