The Nostell Priory Library Chairs - 1768
workshop of Thomas Chippendale (fl. 1766 - 1771 when operating without a business partner)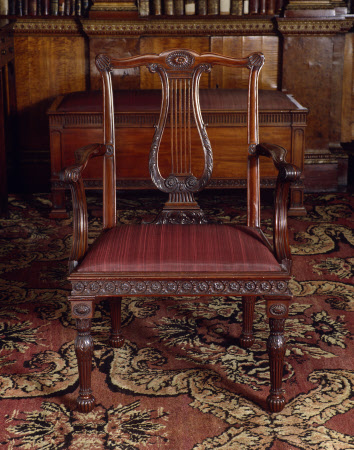 Category
Furniture
Date
22 Jan 1768 (invoiced)
Materials
Mahogany, turned and carved, beech to rails, horsehair
Measurements
96 x 68 x 59 cm
Place of origin
St. Martin's Lane
Order this image
Collection
Nostell Priory, West Yorkshire (Accredited Museum)
NT 959722.1
Summary
An open armchair, one of a set of six carved mahogany open armchairs, London, 1768, made by Thomas Chippendale (fl. 1766 - 1771 when working alone with no business partner) for the Library at Nostell Priory, originally covered in green hair-cloth. Some of the decorative elements carved and applied. Each having an undulating toprail with anthemion-carved ends and centred by an oval patera above a lyre-shaped splat wrapped with acanthus and on an acanthus-carved shoe. The arms outswept, scroll-ended and with applied floral paterae. The arm supports moulded and carved with a Greek key where they meet the floral guilloche-carved seat rails. The legs headed by blocks with further oval paterae, and turned, beaded, fluted and acanthus-carved and terminating in reeded ovoid feet. Upholstered in dark red horsehair.
Full description
These chairs, which still stand in the room for which they were made, cost £6 each, and were invoiced on 22nd January 1768 as 'To 6 Mahogany Chairs with arms for the library the carving exceeding rich in the antique taste the seats cover'd with green hair cloth...£36 0s 0d.' Chippendale mentions them in a letter to Sir Rowland on 11th January 1768 as finished and they are also listed in a memorandum (written no later than August 1768) of items either finished or delivered. It has been noted that these chairs 'are instructive transitional essays', as they mark the point where 'Chippendale was drifting away from the playful Rococo manner towards Neo-Classical ideals which demanded a different approach to design'. They are not considered his most successful chairs in terms of proportion. 'The backs, with their curvilinear crestings, open, fronded splats and slightly bowed, channeled arms, express Rococo impulses, while the seat rails and legs resemble an architecturally-conceived Neo-Classical table frame with heavy supports headed by blocks and an enriched frieze - the result is an unusually hesitant composition.' A similar set were designed for Lord Melbourne of Brocket Hall circa 1773, by which time Chippendale had resolved this stylistic problem having tapered and reeded front supports and blocked toes (Gilbert, I, p. 170). One of many pieces of Chippendale furniture which survive in their original position in the library at Nostell, an interior of which Sir Rowland was hugely proud and which he commemorated in a painting - originally intended to hang at 11 St. James's Square - commissioned in the same year that the desk was delivered. Painted by Hugh Douglas Hamilton (1739 - 1808), the picture shows an idealised version of the Library, its width doubled to create a well-proportioned composition. However, he accurately recorded its fittings and original decoration, as well as the famous Chippendale desk [NT 959723]. (Entry adapted by Megan Wheeler, February 2018)
Provenance
Purchased by Sir Rowland Winn, 5th Baronet, and invoiced in January 1768. Thence by descent until accepted by HM Treasury in lieu of death duties on the estate of Rowland Winn, 4th Baron Oswald (1916 - 1984), 1986.
Makers and roles
workshop of Thomas Chippendale (fl. 1766 - 1771 when operating without a business partner), cabinet maker
References
Boynton and Goodison, 1968: Lindsay Boynton, and Nicholas Goodison. "Thomas Chippendale at Nostell Priory." Furniture History 4 (1968): pp.10-61., pp. 19, 25 and 46 Boynton and Goodison, 1969: Lindsay Boynton and Nicholas Goodison. "The furniture of Thomas Chippendale at Nostell Priory." Burlington Magazine III June 1969: pp.350-60., p. 355 Gilbert (1978): Christopher Gilbert, The Life & Work of Thomas Chippendale (1978), 2 volumes., Vol. I, pp. 170, 177, 182 and 186, and Vol. II, Figure 150 Coleridge, 1968: Anthony Coleridge, Chippendale furniture: the work of Thomas Chippendale and his Contemporaries in the Rococo Taste. London: Faber, 1968., p. 98 and Plate 356 Boynton and Goodison, 1969: Lindsay Boynton and Nicholas Goodison, 'The furniture of Thomas Chippendale at Nostell Priory', Burlington Magazine III, May 1969: pp. 281-5., Figure 31 Goodison, 2017: Judith Goodison, The Life and Work of Thomas Chippendale Junior, PWP London & New York 2017, pp. 30 - 32, Figure 7
View more details
Related articles