Paolo and Francesca
Richard Westmacott III, RA (London 1799 - London 1872)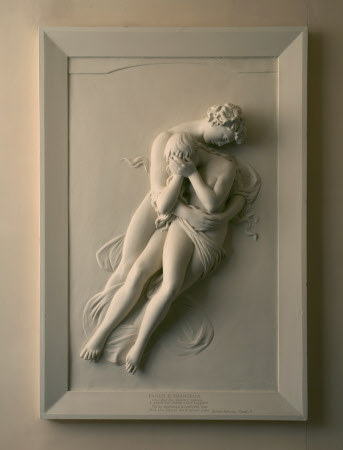 Category
Art / Sculpture
Date
1837 - 27 Aug 1838 (signed and dated)
Materials
Plaster
Measurements
1220 x 750 mm
Place of origin
England
Order this image
Collection
Nostell Priory, West Yorkshire (Accredited Museum)
NT 959561
Caption
The tragic lovers Paolo and Francesca appear in the Renaissance poet Dante Alighieri's (1265-1321) La Divinia Commedia, Inferno Canto 5 (The Divine Comedy; Hell). Francesca had been engaged to the deformed Giancotto Malatesta but fell in love with his younger brother Paolo as they read together. Giancotto surprised them one day and stabbed them both to death and the pair were condemned to exist in a whirlwind in the second circle of hell.
Summary
Plaster sculpture, Paolo and Francesca by Richard Westmacott III, RA (London 1799 - London 1872), signed and dated, very faint, at bottom right of main panel: R. WESTMACOTT JUN. F. AUGT. 27TH 1838. With inscription at the bottom of the plaster 'frame': PAOLO E FRANCESCA / Que duo che insieme vanno / E pajon si al vento esser leggieri / Nulla sperenza li conforta mai / Non che di posa ma di minor pena. and, below and to the right: Dante Inferno Canto 5. They are two non-consecutive couplets from the Inferno: Canto V:74–75 [those two, who go together / And seem upon the wind to be so light] and Canto V:44–45 [No hope doth comfort them for evermore, / Not of repose, but even of lesser pain] (Longfellow English edition). To summarise from Dante's Inferno Canto 5: 137 - 'The book and its author was our pimp! A painted plaster relief of Paolo Malatesta (c.1246-1285) and Francesca da Rimini (1255-1285), the doomed lovers Paolo and Francesca from Dante's Divine Comedy in painted canted frame. They are naked, except for the swathe of drapery which entwines them, Paolo and Francesca are shown being swept along on the wind of Dante's Inferno. Francesca buries her head in her hands, while behind her, Paolo, his head lowered towards the nape of her neck, clasps his hands around her waist. In Dante's Divine Comedy, Paolo and Francesca are among the lovers doomed to be swept along on the wind in the second circle of hell. The couple are based on Francesca da Rimini (d.c.1288) and Paolo, brother of Giancotto Malatesta of Rimini, to whom Francesca was betrothed; Giancotto stabbed the two lovers to death. There was apparently another version of Paolo and Francesca for the Marquess of Landsdowne (Bowood, Wiltshire) in 1837, once reported as being by the artist's father, Sir Richard Westmacott, RA (1775 - 1856) and the work exhibited at the Royal Academy in 1838 was said to be marble. This relief shows affinities to the elder Sir Richard's figures of Venus and Apollo in the Dream of Horace, 1823 (Petworth NT 486415).
Provenance
Purchased by the National Trust by private treaty sale from Lord St Oswald in 2009
Credit line
Nostell Priory, The St Oswald Collection (National Trust)
Marks and inscriptions
Recto: R. WESTMACOTT JUN. F. AUGT. 27TH 1838.
Makers and roles
Richard Westmacott III, RA (London 1799 - London 1872), sculptor
View more details