Settee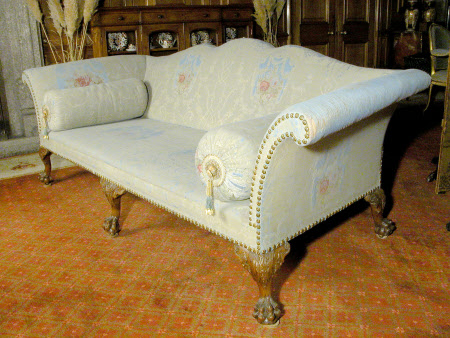 Category
Furniture
Date
1745 - 1750
Materials
Silk cotton, walnut, brass studs
Measurements
87 x 232.5 x 62 cm
Place of origin
England
Order this image
Collection
Lanhydrock, Cornwall (Accredited Museum)
NT 882804.1
Caption
This settee was recovered for Queen Victoria's visit to Wimpole Hall in 1844. During the twentieth-century the settee was brought back to Cornwall and placed in the Drawing Room where family dogs whiled away the long summer afternoons -clearly having no respects for the royal connection.
Summary
One of a pair of large upholstered hump-back settees, English, circa 1745-1750. Each with shaped arched back and over-scrolled ends, the seat with a pair of bolsters with tassels, on six walnut legs richly carved with acanthus and terminating in large hairy paw feet. The silk cotton upholstery with brass studs along the edges. It is believed theses sofas were reupholstered in 1844 for Queen Victoria's visit to Wimpole Hall.
Full description
This important pair of settees were commissioned, as part of a much larger suite, sometime after 1740 by Sir Phillip York, (1690-1764), who was created Earl of Hardwicke and Baron Royston in 1754, for the newly created Gallery at his seat, Wimpole Hall in Cambridgeshire. When the house was sold by the 5th Earl of Hardwicke in 1894 to Thomas, 2nd Lord Robartes and 6th Baron Clifden, the settees remained in situ with the rest of the suite, as most of the contents were sold with the house. The settees were only removed to Lanhydrock in 1938 when the 7th Viscount Clifden sold Wimpole Hall. The settees, together with possibly a third example, appear in images of The Gallery at Wimpole Hall published in Country Life, 28 May 1927, page 846, fig 3 and 4. One sofa can also be seen in a watercolour by William Bruce Ellis Ranken of The Gallery at Wimpole dated 1937 (see David Adshead, 'Wimpole, Architectural drawings and topographical views', NT 2007), only the year before Wimpole was sold by The Hon. Gerald Agar-Robartes, 7th Viscount Clifden.
Provenance
This pair of settees was given to the National Trust in 1953 with the house by The Hon. Gerald Agar-Robartes, 7th Viscount Clifden.
References
Hussey, 1927: Christopher Hussey. "Wimpole Hall II, Cambridgeshire: the seat of the Hon. Gerald Agar-Robartes." Country Life 28 May 1927: pp.844-51., Fig 3 & 4 Adshead 2007: David Adshead, Wimpole Architectural drawings and topographical views, The National Trust, 2007, plate 15
View more details