The Adoration of the Shepherds
after Sir Peter Paul Rubens (Siegen 1577 - Antwerp 1640)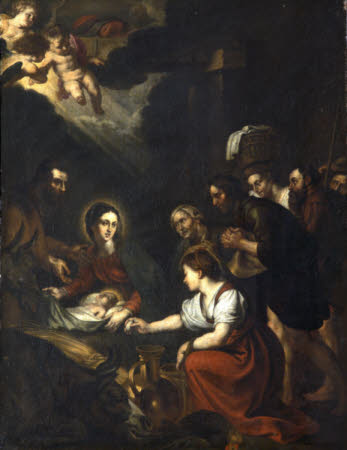 Category
Art / Oil paintings
Date
circa 1620 - 1750
Materials
Oil on canvas
Measurements
533 x 419 mm (21 x 16 1/2 in)
Place of origin
Flanders (Belgium from 1830)
Order this image
Collection
Saltram, Devon (Accredited Museum)
On show at
Saltram, Devon, South West, National Trust
NT 872112
Caption
The model for this painting is an engraving by Lucas Vorsterman (1595 - 1675) after Rubens printed and published in Antwerp in 1620 (BM R, 3.39) which is in reverse to the original painting for Les Capucins d'Aix-la Chapelle in Aachen of 1615-20 and now in the Musée des Beaux-Arts, Rouen (803.6). The Saltram copy has been variously attributed to the Florentine painter Carlo Dolci - when it was probably bought by the young artist Joshua Reynolds for John Parker (1703-1768) of Saltram in Rome in 1750/1 - and Rubens' pupil Jacob Jordaens. It is a full nocturne (night scene) and omits the spectacular spider web present in the painting and the print. It has been suggested that Vorsterman was, in fact, copying a sketch (now lost) for the final picture.
Summary
Oil painting on canvas, The Adoration of the Shepherds, after Sir Peter Paul Rubens (Siegen 1577 – Antwerp 1640), circa 1620. The Holy Family at the left, with putti in the clouds above. The shepherds approach from the right. In the foreground a kneeling peasant girl offers the child an egg. A copy after an engraving by Lucas Vorsterman probably from a lost modello for Rubens's altarpiece originally painted for the Capuchin Church in Aachen, and now in the Musée des Beaux-Arts in Rouen, 1620.
Provenance
Presumably one of the pictures that, according to the 1819 Catalogue, were acquired in Rome in 1750/51 for the first John Parker by (Sir) Joshua Reynolds (1723 - 1792) (although no evidence) and thence by descent; given to the National Trust as part of the endowment by Montagu Brownlow Parker, 5th Earl of Morley (1878-1962)
Credit line
Saltram, The Morley Collection (National Trust)
Marks and inscriptions
Verso: An old label on the back of the frame describes SAL.P.39 as: Pittura dell Nativitate Christ e Adorazzione...dapinto par Carlo Dolci.. pallazzio di Cardinal Quirini a Roma
Makers and roles
after Sir Peter Paul Rubens (Siegen 1577 - Antwerp 1640), artist previously catalogued as manner of Jacob Jordaens (Antwerp 1593 – Antwerp 1678), artist previously catalogued as attributed to Carlo Dolci (Florence 1616 – Florence 1686), artist
References
Rubens e l'incisione nelle collezioni del Gabinetto Nazionale delle Stampe, Villa della Farnesina, Rome 1977, no. 125 Le siècle de Rubens dans les collections publiques françaises, Grand Palais, Paris 1977-78, no.124 Rooses 1892 Max Rooses, L'Oeuvre de P. P. Rubens, Antwerp, 1886 & 1892 , vol. V [1892],pp.148-49 & repr.p.382).
View more details