'Model 36' chaise longue
Bruno Mathsson (Varnamo, Sweden 1907 - Varnamo, Sweden, 1988)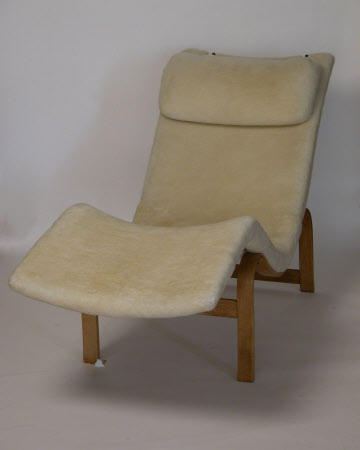 Category
Furniture
Date
circa 1938
Materials
Beech, sheepskin, leather
Measurements
76 x 54 x 154 cm
Place of origin
Varnamo
Order this image
Collection
The Homewood, Surrey
NT 864326
Caption
This chaise longue by may look like a mass-produced chair from IKEA, but it was made by Swedish architect and designer Bruno Mathsson over 80 years ago. During the 1930s, the chair caught the eye of the young British architect Patrick Gwynne. As a follower and exponent of European modernism, Gwynne was interested in furniture which embraced new technology and spoke of a new design aesthetic. He chose carefully when furnishing The Homewood, the house he built in Surrey in 1938. Mathsson's undulating and organic design complemented the pure lines and open-plan living of Gwynne's concrete and glass construction. As a youth, Mathsson served an apprenticeship in his father's cabinet-making firm in his native town of Värnamo. From the late 1920s, he experimented with bending and laminating wood to create chairs that were both simple in design and ergonomic. His breakthrough as a furniture designer came at the World Fair in Paris in 1937 where his designs drew international acclaim. Although this chair is very much in the canon of International Modernism, of which Germany and France were the main exponents, the use of natural materials and organic shapes are rooted in the Nordic landscape. This distinctly Scandinavian aesthetic continues to appeal today.
Summary
A laminated beech frame 'Model 36' chaise longue, Swedish, designed by Bruno Mathsson (1907-1988), circa 1933-36, manufactured by Karl Mathsson from 1937, the shaped frame supporting webbing (replaced), on four square-section legs, a stretcher between the two front legs and the two rear legs, with white sheepskin cover (later replacements), with sheepskin covered headrest pillow attached to the top of the seat with two white leather straps. The underside of the front right seat rail stamped 'Made in Sweden' and applied with a white paper label printed 'Design by BRUNO MATHSSON'. A chair of matching design covered in brown sheepskin (NT 864328) also at The Homewood. Between 1933 and 1936 Bruno Mathsson designed three chairs known as working, easy and loungechair, the model 36. In March 1936, Mathsson had a one man exhibition at the Röhsska Arts and Crafts Museum and among the exhibits was the model 36. The exhibition proved a great success for Mathsson and his work went on to be shown at the 1937 Paris Expo and his chairs were ordered in 1939 by Edgar Kaufmann jr. for a new extension of the Museum of Modern Art in New York.
Provenance
Patrick Gwynne purchased this chaise longue and another (NT 864328) for The Homewood in 1938. The Homewood and some of its contents were given to the National Trust by Patrick Gwynne in 1999.
Marks and inscriptions
Underside of right seat rail: Stamped 'Made in Sweden' and applied with paper label printed 'Designed by BRUNO MATHSSON'
Makers and roles
Bruno Mathsson (Varnamo, Sweden 1907 - Varnamo, Sweden, 1988) , designer Karl Mathsson , manufacturer
View more details