The Hervey Conversation Piece
William Hogarth (London 1697 - London 1764)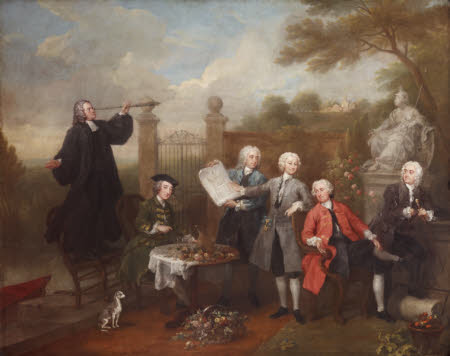 Category
Art / Oil paintings
Date
1738 - 1740
Materials
Oil on canvas
Measurements
1016 x 1270 mm (40 x 50 in)
Place of origin
London
Order this image
Collection
Ickworth, Suffolk (Accredited Museum)
NT 851983
Caption
The protagonists of this lively picture all seem to be enjoying a private joke. To the right of centre is intimate friend of George II and Queen Caroline and commissioner of the picture, John Hervey, Lord Ickworth; the key of the Vice-Chamberlain of the King's Household at his waist. He indicates an architectural plan held up by the Surveyor-General of the King's Works, Henry Fox, later 1st Lord Holland. On the right is Lord Charles Spencer, 3rd Duke of Marlborough, who is wearing civilian clothes in military red indicating his rank as infantry colonel and on the far right is Thomas Winnington, Lord of the Treasury. To the left Stephen Fox, later 1st Earl of Ilchester, surreptitiously topples the chair on which stands the leading scientist and, like the artist, a Freemason, the Reverend John Theophilius Desaguliers, who is focusing on a distant church through a telescope. Fox, who married in 1736 although he had previously had a love affair with Hervey, also owned a version of this picture which hung in his dining room at Redlynch, Wiltshire and was described by Horace Walpole in 1762. The conversation piece, which originated from French and Dutch prototypes became a genre that characterised eighteenth-century English painting, particularly Hogarth's. Here a group of friends, linked by class, political sympathies and ideals, gather in a garden. Attributes such as geniality, good taste, correctness and sharp wit are expressed.
Summary
Oil painting on canvas, The Hervey Conversation Piece by William Hogarth (London 1697 - London 1764), signed, on flower pot, right foreground: W. Hogath pinx, 1738/40 A group of six men in foreground with table in centre and garden roller - symbolising God as the Great Leveller, according to a masonic reading - at right. At left, man in clerical garb stands on chair, with telescope trained on church in right background. Seated man, in green coat and black hat, has walking stick hooked round chair. In centre, two men, left in grey coat, right in blue coat, hold architectural drawing. At right, two men, left seated in red coat, right standing in grey coat with foot on roller in front of a seated female marble statue of Minerva and a tree. Small grey and white dog in left foreground. Round table covered by cloth has fruit, glasses and basket carafe on it. Fruit also on ground below table. Cumulus clouds, blue sky. Boat tied to steps in river on left. In the centre of the group of John, Lord Hervey (1696 - 1743), regarding a plan and elevation offered to him by Henry Fox, later 1st Lord Holland. Stephen Fox, later Earl of Ilchester in 1756, seated on left. At the right are 3rd Duke of Marlborough and Thomas Winnington. The parson, standing on the the chair, about to be upturned by Stephen Fox's walking stick, on the left, looking through a telescope, was thought to be Peter Willman (or Willemin), the only figure in the group not a member of the Whig party or more plausibly Reverend John Theophilius Desaguliers, once Newton's assistant. The location could be intended to be Water Eaton and is not Holland House, as its former title suggests, as it was not acquired until 1767.
Full description
The protagonists of this lively and enchanting picture are known from Horace Walpole's enumeration of them in what he categorised as the copy of this picture, then in the eating-room of Stephen Fox's house at Redlynch, Wiltshire: "Charles Duke of Marlborough, Lord Hervey, Mr Winnington, Mr Fox and Lord Ilchester, and Desaguliers, in one piece" John, Baron Hervey of Ickworth (1696-1743), eldest grandson of the 1st Earl of Bristol, author of the lapidary Memoirs of the Reign of George II, husband of the "pretty, witty Mary Lepell", friend of Lady Mary Wortley Montagu and thus rival and enemy of Pope, who attacked him in verse as "Bathos", "Lord Fanny", and "Sporus", and the commissioner of the picture, stands at its centre . He wears a dove-grey coloured coat, and his key as Vice-Chamberlain of the King's Household (to which post Walpole nominated him in 1730, and through the constant proximity afforded by which he governed Queen Caroline, and through her the King; he gave it up when promoted Lord Privy Seal in 1740). He is indicating what now appear as the elevation and plan of a banqueting-house (see below). The paper is held by Henry Fox (1705-74), created 1st Baron Holland of Foxley, in 1763, and father of Charles James Fox. The Fox brothers, sons of the profiteering Paymaster-General (an office that Henry was also subsequently to fill, to his immense profit too), Sir Stephen Fox, were both intimate friends of Hervey's, though it was Henry's elder, country-loving brother, Stephen, whom he loved, and with whom he had gone to Italy. At Hervey's urging, George II had appointed Henry Surveyor-General of the King's Works in June 1737, so his action of holding out plans for approval is entirely appropriate. His elder brother, Stephen Fox (1704-76), created Baron Ilchester in 1741, and 1st Earl of Ilchester in 1756, and the original owner of the only known copy of the picture, is seated at the table behind him, surreptitiously using his cane to topple the chair on which the clergyman stands. Hervey's boon companion - possibly even lover - from 1727 until their breach in 1742, he owed his peerage not, like his brother, to a ministerial career, but to Hervey - supported by his marriage in 1735 to Elizabeth Strangways Horner, the heiress of Melbury and Mells, which brought with it the parliamentary seats which he thus controlled. Seated in the chair on the right is Charles Spencer, 3rd Duke of Marlborough, in civilian dress, but of a military red, to signify his newly-acquired (March 1738) colonelcy of the 38th Foot. In the Redlynch copy he is invested with the sash and star of the Garter, which he was given in 1741/42, but is without it here, which helps to establish a terminus ante quem for the picture (a similar addition of the Garter was made to the Richardson portrait of him owned by Lord Holland, which has a label on the back saying: "It is a very good picture, altered as to the dress by Lord Holland, who loved and still loves his friend Charles Spencer better than any man living") . It had only been early in 1738 that he had abandoned the Opposition for the Government, being further rewarded by appointment as Lord of the Bedchamber in August. It seems to have been his negotiations in 1737 on behalf of Frederick, Prince of Wales with Henry Fox that had first brought him into contact with the present group; and at Fox's clandestine marriage to Lady Caroline Lennox in 1744, at the house of Sir Charles Hanbury-Williams, it was to be he who gave away the bride. Thomas Winnington (1696-1746), at the far right in a mole-brown coat, who some thought might have become Prime Minister, had he not been purged and bled to death by his doctors, was a friend and ally of both Hervey and the Foxes. From 1736 to 1741, i.e. at the period of this picture, he was a Lord of the Treasury. Subsequently, he too was to be Paymaster-General, from 1743 until his death. Hervey left him a considerable legacy, which their former crony, Sir Charles Hanbury-Williams, hinted was for sexual reasons . The identity of the parson teetering on the chair as he studies a distant village and church with the aid of a telescope - almost certainly intended as a satire on his hope of obtaining the living of it - has been almost universally misconstrued. Despite Horace Walpole's clear statement à propos the copy at Redlynch that he was the Huguenot physicist, John Theophilus Desaguliers (1683-1744), subsequent tradition in the Fox-Strangways family tended to identify him with a cleric who had more meaning for them: Peter Lewis Villemin, Willemin, or Wilman (d.1762). It was he who had performed the double marriage ceremony for Stephen Fox and Elizabeth Strangways-Horner in 1735/36; which had been rewarded with the incumbency of "Issy", or Eisey. Willemin was, indeed, clearly to some extent the butt of the family, as revealed by a note in the Melbury game-book for 20th Sept. 1736: "One of the pheasants shot by S. Fox could not be found, tho' it fell immediately, and was seen to fall by six people, perch'd on six several trees, after the example of Mr. Willemin. The said Willemin got so far into thick wood, that without assistance and some branches being cut for him, he would never have got out" . By the date of this picture, however, Willemin - who, this evidence suggests, was also a younger man - had his living, whereas Desaguliers may still have been seeking to better his . The crucial evidence in favour of Desaguliers is, however - over and above the testimony of Walpole, who had, after all, been shown the painting by one of its protagonists, Stephen Fox, by then Earl of Ilchester - his use of the telescope to peer at the church, which is an evident allusion to one of his main scientific interests: optics. Hysing's 1725 portrait of him, scraped in mezzotint by Peter Pelham, which provides a perfectly compatible likeness, shows him holding a magnifying-glass, and with a Newtonian prism on the table in front of him. The really interesting thing about the inclusion of Desaguliers in this picture is his and the artist's shared involvement with Freemasonry, and the significance that this may have had for the inclusion of the plans in the picture. For these were not simply painted upon the canvas, but upon a little piece of paper pasted down onto it. Unfortunately, by this century, the plans themselves were virtually illegible: hence Horace Buttery having taken those in the Redlynch copy (which appeared to correspond) as his model when he came to restore the picture in 1960 (but this time on canvas, rather than on paper). Were there originally diagrams of a more overtly Masonic kind upon it? Desaguliers, who has been called "the Father of Modern Speculative Masonry", was originally a member of the Rummer & Grapes, or "Old" Lodge, Channel Row, Grand Master of the Order in 1719-20, and Deputy Grand Master from 1722 to 1726 . Hogarth was originally a member of the Hand & Appletree. and later of the Bear & Harrow - subsequently called the Corner Stone - Lodge, and was Grand Steward of that Lodge in 1734-35 . Stephen Fox and the future 3rd Duke of Marlborough were admitted as Masons together on 23 January 1729/30; whilst Hervey, if he was not himself a Mason, reports with amused tolerance on their reception in a letter to Henry Fox the next day . In the conception of this picture, the Masonic elements may have been introduced through complicity between the artist and Desaguliers (whom Hogarth had already introduced as the preacher in the Masonic-symbolled The Sleeping Congregation of 1736 ), but the very inclusion at all of Desaguliers - who is not otherwise recorded as a member of the Hervey-Fox circle - suggests that the Masonic connection was introduced at the behest of the commissioner of the portrait, Lord Hervey. Not that the picture should be read simplistically, in terms of one set of symbols alone. It seems unlikely to represent an actual gathering at any particular place - least of all at Stephen Fox's shooting-box at Maddington (where some or all of the protagonists did spend some time together in September 1738, though this was followed by a temporary estrangement between Hervey and their host, and in turn by a permanent breach between Hervey and Henry Fox some time after the autumn of 1739) , since that was set in the bleak landscape of Salisbury Plain. The profusion of fruit and flowers - rather than of bottles and glasses - suggests symbolic intent, as do the inclusion of the moored boat, the gates so oddly placed athwart on the river bank, the garden roller, an allusion to God as the Great Leveller, and the statue of Minerva, with the owl on her helmet and the Medusa's head on her shield: but exactly what they signify eludes our grasp . What should not be overlooked, in the earnest pursuit of interpretation, is that this is one of the most successfully integrated and purely painterly of all Hogarth's conversation-pieces. Notes: (i) 'Horace Walpole's Journals of Visits to Country Seats, &c.', The Walpole Society, vol. XVI, 1927/28, p.44; visit of July 1762. The copy may be by Ranelagh Barrett, whom Horace Walpole specifically credits with two other copies there, whilst the late Earl of Ilchester - who may well have been drawing on some unspecified document -further credits him with this one. (ii) For Hervey, see Robert Halsband, Lord Hervey: Eighteenth-Century Courtier, Oxford, 1973. (iii) The Earl of Ilchester, The House of the Hollands, 1937, p.39. (iv) Halsband, op.cit., p.91. (v) Earl of Ilchester, Henry Fox, 1st Lord Holland: his Family and Relations, 1920, vol.I, p.50. (vi) Robert Harrison, in The Dictionary of National Biography, vol.V (1908), pp.850-51; Albert F. Calvert, The Grand Lodge of England, 1907, p.22. (vii) The Yale edition of Horace Walpole's Correspondence, vol.XL (1980), pp.251-2, letter of 29 July 1762 to the Earl of Ilchester. (viii) Calvert, op.cit., pp.12 & 20-31. (ix) Ronald Paulson, Hogarth, vol.I (1991), pp.114-119; vol.II (1992), pp.56-60. (x) The Earl of Ilchester, Lord Hervey and his Friends, 1726-38, 1950, p.45. (xi) Paulson, op.cit., pp.97-103, & fig.40. (xii) The Earl of Ilchester, Henry Fox, vol.I, pp.51 & 85; Halsband, op.cit., p.250. (xiii) Paulson's interpretation, op.cit., vol.II, pp.174-76, is both anachronistic in spirit and mistaken in detail. (adapted from author's version/pre-publication, Alastair Laing, In Trust for the Nation, exh. cat., 1995)
Provenance
Presumably by descent from Lord Hervey to his sons, the 2nd, 3rd, and 4th Earl of Bristol, and thus to successive Marquesses of Bristol (first mentioned in a list of circa 1837, as: "Assemblage of Political persons of the Day, by Hogarth") until surrendered to HM Treasury, in lieu of the death duty payable on the estate of the 4th Marquess (1863-1951); loaned to the National Trust in 1956 under the auspices of the National Land Fund, later the National Heritage Memorial Fund, and then transferred to the National Trust in 1983.
Credit line
Ickworth, The Bristol Collection (acquired through the National Land Fund and transferred to The National Trust in 1956)
Makers and roles
William Hogarth (London 1697 - London 1764), artist
Exhibition history
Hogarth, Musée du Louvre, Paris , 2006 - 2007, no.56 Hogarth, Tate Britain, London, 2006 - 2007, no.56 Hogarth, CaixaForum Museum, Madrid, 2006 - 2007, no.56 In Trust for the Nation, National Gallery, London, 1995 - 1996, no.20 The Treasure Houses of Britain, National Gallery of Art, Washington, USA, 1985 - 1986, no.164
References
Hervey 1894 S.H.A. Hervey, Diary of John Hervey, 1st Earl of Bristol, 1894, Appendix II: 'List of all Hervey portraits', p.271 Beckett 1949 R. B. Beckett, Hogarth, 1949, p.44 & pl.95 Ilchester 1950 The Earl of Ilchester, Lord Hervey and his Friends, 1726—38, 1950, pp.20 & 228 Antal 1962 Frederick Antal, Hogarth and his Place in European Art, 1962, pp.33 & 223 n.97 & pl.73b Paulson 1971 Ronald Paulson, Hogarth: His Life, Art and Times, New Haven, 1971, 2 vols., vol.I, p.458 & pl.177 Halsband 1973 Robert Halsband, Lord Hervey: Eighteenth Century Courtier, Oxford, Clarendon Press1973, pp.239 & 343 n.37 & pl.14 Paulson, 1991, 1992 Ronald Paulson, Hogarth, New Brunswick, i, 1991; ii, 1992, Vol. II, pp.174—76 & 418—19 nn.54—57 & fig.79. Hogarth, Reynolds, Turner: British Painting and the Rise of Modernity (ed. Carolina Brook, Valter Curzi), Fondazione Roma Museo, Palazzo Sciarra, Rome,15 April - 20 July 2014, 44 Simon 2007 R. Simon, Hogarth, France & British Art: The Rise of the Arts in Eighteenth-century Britain, London, 2007, pp. 234-40
View more details