Prince Baltasar Carlos, Aged Six, as a Hunter
Diego Velázquez (Seville 1599 - Madrid 1660)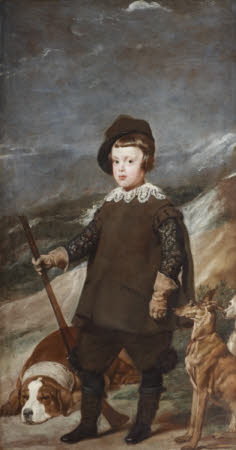 Category
Art / Oil paintings
Date
1635 - 1636
Materials
Oil on canvas
Measurements
1537 x 902 mm
Place of origin
Spain
Order this image
Collection
Ickworth, Suffolk (Accredited Museum)
NT 851780
Caption
This portrait of a six-year-old boy wearing simple hunting clothes shows Prince Baltasar Carlos (1629–46), heir to the throne of Spain. He stands holding his gun with three dogs at his side: the two greyhounds are alert and upright, while the large brown-and-white hound (identified as a partridge dog) snoozes on the ground. This is one of a number of paintings of the prince by Spanish court artist and master of portraiture Diego Velázquez (1599–1660). Here he creates a scene that presents the young Baltasar in the role of a huntsman, in command of the forces of nature. The picture was designed to hang at a royal hunting lodge, where only the nobility was admitted. Tragically, the prince was to die young, at the age of 16, crushing the hopes of his parents, King Philip IV of Spain (1605–65) and Elizabeth of Bourbon (1602–44).
Summary
Oil painting on canvas, Prince Baltasar Carlos, Aged Six, as a Hunter, by Diego Velázquez (Seville 1599 - Madrid 1660), 1635-1636. A full-length portrait of a young boy, Prince Balthasar Carlos (1629-46), in hunting costume, turned to the left, gazing at the spectator, standing against a wintry landscape in the Sierra de Guadarrama. He supports a musket in the right hand, and wears a dark brown cap over short light brown hair, doublet and breeches, with black and silver sleeves, white lace collar, pale fawn gloves and boots. A partridge-dog lies by the Prince's feet at left and at right sit two Spanish greyhounds, the second half visible.
Full description
This is a painting that has almost never received its due in print. In this century it has regularly been slighted as a mere copy of the portrait in the Prado, in spite of its self-evident quality (once allowance has been made for past overcleaning, and flattening by hot-lining), its pentimenti (which were not revealed until 1962), the fact that is an autonomous variant of the Prado picture, and that all the many other versions of this portrait - which are just copies (including one acquired by the 3rd Lord Berwick in Naples in 1825, sold from Attingham in 1938) - are painted from this pattern, and not from that of the version in the Prado. This is not to deny for one moment the superior status and quality of the Prado picture (though in this too there are parts - such as the lying dog, the tabard, and the tree - that are a little skimped, whilst the face is slightly mask-like and flat), which has the inestimable advantage of all the former Royal pictures by Velázquez in that museum, of having always been much more sensitively conserved and restored than any of the artist's pictures to reach Britain in the 19th century (although the Prado version of this particular picture has suffered somewhat from overcleaning). But even when that has been admitted, what is needed is to assess the Ickworth picture on its own merits, and to give some consideration to the actual differences between the two pictures, and to what light these might shed upon the purposes that each of them served. Prince Baltasar Carlos was the only and cherished son of Philip IV by his first marriage, to Elisabeth of France (Isabel de Borbón). He was painted at every age and in a variety of guises by Velázquez, but only in these two portraits as a sportsman, at the age of six. The chief difference between the two pictures is one of scale. The Prado picture - unlike the Ickworth one - is of exceptional size for a whole-length portrait of a child (75¼ x 40½ in; 191 x 103cm.). That is because it is one of a set of three portraits whose original purpose was to hang in a hunting-lodge in the grounds of El Pardo palace near Madrid, called the Torre de la Parada, best-known for the set of some sixty Ovidian mythological scenes that Rubens designed for it, and for the fifty or so hunts and animal pictures that Snyders painted for it or delegated to Paul de Vos . The other two portraits are of Prince Baltasar Carlos's father, King Philip IV (Museo del Prado, Madrid) , and of his surviving uncle - Velázquez's only extant portrait of this (in Flanders) much-portrayed Prince - the Cardinal-Infante Fernando (Museo del Prado) . They are of identical height, but slightly differing widths. All three show the sitters in the same plain hunting-costume (though the Cardinal-Infante wears a cloak over his, and his lace collar has been painted out), and all three include dogs, and a tree as a repoussoir. They stand in front of the same uncultivated hunting terrain, which has been identified as that of the Sierra de Guadarrama. The portraits were painted or adapted to hang together in the Galeria del Rey, in the context of five hunting scenes painted by Pieter Snayers (Museo del Prado), and one - the so-called Tela Real - by Velázquez himself (with help from J.B. del Mazo; National Gallery, London) with some of the Snyders/de Vos animal pictures as overdoors . Elsewhere in the Torre de la Parada hung Veláquez's portraits of four dwarves from the royal households (all in the Prado; Baltasar Carlos's is Francisco Lezcano, in the same setting of the Sierra), and - rather strangely - his Aesop, Menippus, and Mars (also in the Prado) . One of the most remarkable things about the three royal portraits painted or adapted for the Torre de la Parada between 1634 and 1636 is, as Svetlana Alpers has noted , their simplicity. The sitters' dress is plain, their guns are functional, not elaborately decorated, and there are no boastful mounds of game. This must be seen in the context, not only of the simplicity of Spanish royal dress in general, but of the Torre de la Parada itself. Although of relatively impermanent construction, so that, after being sacked in 1710, it was steadily stripped of pictures and allowed to crumble thereafter, it would be wrong to categorise it, as Alpers does, as a place of purely private retreat for the sovereign - its vast decorative scheme alone contradicts that. Not only is hunting itself an eminently social activity, but it was also an exclusively noble - and in the form of the boar-hunting practised in the Tela Real, an exclusively royal - one . The point about these hunts, as about the Torre de la Parada, was not their privacy, but their exclusivity. So that, though we may have few descriptions or accounts of the Torre de la Parada, they are all by visitors of the highest rank. Hence the simplicity of these portraits. For, whereas in a more public palace it might have been necessary or appropriate to celebrate the regality of the King and other members of the royal family by richness of costume or emblems of authority, in the context of this hunting-lodge, to which only those who were themselves grand and potentially resplendent were admitted, by omitting such trappings it was the fact that the mere persons of the king and princes were exalted above all others that was underscored. That strict etiquette still prevailed is indicated by the fact that, whereas in his portrait as originally painted - very probably to stand on its own - Philip IV was shown bare-headed, his cap in his hand (and that the portrait was in this state for some time is indicated by the studio replica of it like that, in the Musée Goya-Jaurès, Castres) , as ultimately painted he, like his brother and son, wears it; for, in art as in life, if one remained covered in the others' presence, all had to be covered. In the present picture, Prince Baltasar Carlos is shown with three dogs - a partridge dog, and two Spanish greyhounds, or galguillos . In the Torre de la Parada set of portraits, Philip IV and the Cardinal-Infante Fernando are each only shown with two different varieties of pointer . In the Torre de la Parada version of Baltasar Carlos in the Prado, only one greyhound is shown. This has - very implausibly - been explained by saying that there were once two, and that the picture has been cut down. Not only is there no sign of this, nor reason for that portrait alone of the three to have been so treated (and why eliminate a whole dog from the right, when on the left only landscape need have been sacrificed?), but the painting is already within four centimetres of the width of the portrait of the Cardinal-Infante Fernando - who, as an adult, requires more space to move in (that the King's portrait is 19 cm. wider still, befits his status). Even were the Prado picture to have been four centimetres wider, it would not have been enough to accommodate a second dog. The greyhounds were, in fact, a gift from the Cardinal-Infante to Baltasar Carlos, acquired from Lombardy in 1633 . The most logical explanation for there being only one in the Prado picture would be to suppose that, between the painting of the two versions, one had died. This is to propose, in other words, that the present picture is an earlier and autonomous portrait of the prince, from which a second and expanded version was derived for the Torre de la Parada set. Not only is that what is also suggested by the numerous pentimenti in the present picture, and by the way in which the rifle and part of his tabard are painted over the already painted landscape, but we also have the facts of the face of the Torre de la Parada portrait of the Cardinal-Infante having probably been painted before the hunting-lodge was even rebuilt, and the reworking of the portrait of Philip IV to suit this new context, to show that the Torre de la Parada version of Baltasar Carlos may also not have been the first version of its type. Where the present picture might have been painted for is hard to say. Although other versions, ascribed to Velázquez himself, of the portraits of Philip IV and the Cardinal-Infante in hunting costume were recorded at the Alcázar in 1686 and 1700 (and were probably destroyed, or irreparably damaged, by the fire there in 1734), none is recorded there of Baltasar Carlos - and even had one been, it would presumably have been on the scale of the original, or larger, just as the other versions of the Tela Real and the portraits of the King and Cardinal-Infante were . What might be hazarded, is that it was not originally an independently-framed picture. Already unusually narrow in relation to its height, even the degree of this narrowness is to some extent disguised by a slight shortening at top and bottom, and by the unfortunate later additions on either side. But these additions do something more material (only partially counteracted by the fact of the frame found in the house for the picture by St. John Gore to a great extent overlapping them): they diminish the impression that the rest of the head and body of the second greyhound continue behind the frame (as is achieved with the single greyhound in the Torre de la Parada picture). This is an illusion - and it may well have originally been achieved in the same way with the version in the Torre de la Parada too - that would have been even more effective if the picture were to have been set in panelling, rather than in a frame - which is also what is implied by its extreme narrowness. If the early history of this picture is not certain, nor is its later history. It is first certainly recorded at Ickworth in 1837/8 , which means that there are two likely ways in which such a picture - i.e. a Velázquez once in the possession of the Spanish crown or of a grandee of Spain - could have got there. One is that it was one of the many pictures looted from Spanish palaces and religious houses by the 'King of Spain', Joseph Bonaparte, and his generals. That would have enabled Frederick William, 5th Earl and 1st Marquess of Bristol (1769-1859), to acquire it subsequently in Paris in the 1820s - just as he did Flaxman's great marble group of The Fury of Athamas (1790-94), which had been commissioned in Italy by his father, the Earl-Bishop, but then confiscated by Napoleon; and - most probably - J.R. Ribera's same-size copy of Domenichino's Last Communion of St. Jerome, which was made in 1808 for Joseph Bonaparte from the original, which then hung as booty in the Louvre: it seems unlikely that the copy ever reached Spain . The alternative is that the picture was acquired in Madrid by the 1st Marquess's third son, Lord William Hervey (1805-50), who was Secretary to the Legation in Madrid between 1830 and 1840. Those were troubled times, with the Carlist Wars, and it is possible that he might have picked up pictures in the confusion, but even then, a Velázquez would probably have outstripped the resources of a younger son; whilst he was too junior in the embassy to have been given one by the King, as an earlier Minister, Sir Henry Wellesley, had been given the Tela Real by Ferdinand VII. Moreover, he was to have a family and descendants, to whom the picture should have come, unless - and there is no evidence of his having done so - he was acting as his father's agent in the matter of picture-purchases. It is unfortunate that no systematic study has ever been made of the Bristol collection, for what with the 3rd and 4th Earls leaving chattels away from their family, and subsequent sales and dispersals, it is very difficult to gain any true idea of the changing profile of the collection. We should count ourselves fortunate that it was the traditional disparagement of the present painting - often by authors who may not have even seen it - that reduced its value, and so made it possible for it to be acquired in lieu of death duties by the Treasury and left at Ickworth. (adapted from author's version/pre-publication, Alastair Laing, In Trust for the Nation, exh. cat., 1995)
Provenance
By descent in Spanish Royal Collections; acquired, possibly in France, by Frederick William Hervey, 5th Earl & 1st Marquess of Bristol (1769-1859); first recorded in an undated list in the Marquess's hand, drawn up around 1837; thence by descent, until surrendered with Ickworth and its contents to HM Treasury, in lieu of the death duty payable on the estate of the 4th Marquess (1863-1951) in 1956; loaned to the National Trust in 1956 under the auspices of the National Land Fund, later the National Heritage Memorial Fund, and then transferred to the National Trust in 1983.
Makers and roles
Diego Velázquez (Seville 1599 - Madrid 1660), artist
Exhibition history
In Trust for the Nation, National Gallery, London, 1995 - 1996, no.50
References
Beruete 1906 Aureliano de Beruete, Velazquez, (revised edition translated by Hugh E. Poynter), 1906, p.57. Calvert & Hartley 1908 A.F. Calvert & C.G. Hartley, Velazquez, 1908, p.215, no.157. Farrer 1908 Edmund Farrer, Portraits in Suffolk Houses (West), 1908, no. 4. Loga 1913 Valerian von Loga, Velazquez, Stuttgart, 1913, p.81. Stevenson, 1914: R.A.M.Stevenson, Velasquez, 1914, p.134. Allende-Salazar 1925 Juan Allende-Salazar, Velasquez, Berlin and Leipzig, 1925, pl. on p.177 and p.284. Meyer 1936 August L. Meyer, Velazquez: A Catalogue Raisonée of the Pictures and Drawings, 1936, no.272, p.65. Lopez-Rey 1963 José Lopez-Rey, Velazquez: A Catalogue Raisonée of his Oeuvre, 1963, pp.70-72, 267, no.306, pl.299. Pantorba 1964 Bernardino de Pantorba, Tutta la Pittura de Velazquez, Milan, 1964, p.55. Gore 1964: F. St John Gore, 'An English family at home and abroad: the pictures at Ickworth House, Suffolk', Country Life, 3 December 1964, pp. 1508-13 Gore 1964: F. St John Gore, 'An English family at home and abroad: the pictures at Ickworth House, Suffolk', Country Life, 10th December 1964, pp. 1654-6 Bardi 1969 P.M. Bardi, Toute l'oeuvre peint de Velazquez, Paris, 1969, p.96, no. 63A. Camon Aznar 1964 Jose Camon Aznar, Velázquez, Madrid, 2 vols, 1950 (revised edition 1970), I, p.564, pl. on p.565. Ford, 1974: Brinsley Ford. "The Earl Bishop: an eccentric and capricious patron of the arts." Apollo 99 June (1974): pp.426-34. Brown 1986 Jonathan Brown, Velázquez: Painter and Courtier, New Haven, 1986, p.138, pl.160. Velázquez, exh. cat., (Antonio Domínguez Ortiz, Alfonso E. Pérez Sánchez and Julián Gállego eds.), Metropolitan Museum, New York 1989 & Museo del Prado, Madrid 1990 , pp. 176, 280.
View more details