King Charles I (1600-1649) on Horseback
Hubert Le Sueur (c.1580 - Paris 1658)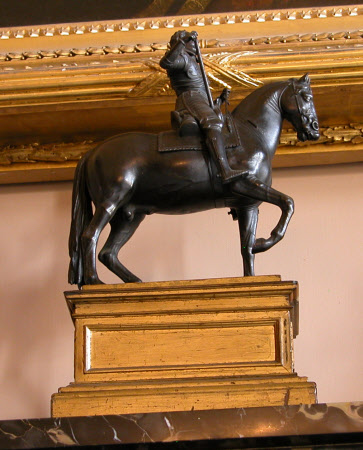 Caption
The monumental equestrian statue, called 'Carolus Magnus' (with flattering reference to the emperor Charlemagne), for which this is the statuette once owned by Charles I himself, was commissioned in 1630 by Sir Richard Weston (1577 - 1634/35), Lord Treasurer, and later Earl of Portland. Le Sueur was encouraged to 'take the advice of the King's riders of great horses for the shape and action both of the horse and his Majesty's figure on the same'. Presumably this small reduced piece embodies the results of Le Sueur's studies in the royal stables. The larger work is signed and dated 1633. It disappeared and was hidden during the time of the Commonwealth and was not finally erected on a high pedestal at Charing Cross until sometime between 1675 and 1677 where it still stands today.
Summary
Bronze sculpture on wooden plinth, King Charles I (1600-1649) on Horseback by Hubert Le Sueur (c.1580 - London 1670), 1630/33. A reduction of full-size bronze in Trafalgar Square.
Provenance
King Charles I (1600-1649); part of the Bristol Collection; acquired by the National Trust in 1956 under the auspices of the National Land Fund, later the National Heritage Memorial Fund.
Makers and roles
Hubert Le Sueur (c.1580 - Paris 1658), sculptor
References
Vertue 1862 G. Vertue, Anecdotes of Painting in England, 3 vols., 1862, 2.394 Denoon 1933 D. G. Denoon, 'The statue of King Charles I at Charing Cross',Transactions of the London and Middlesex Archaeological Society, new ser., 6 (1933), pp. 460–85 Avery 1979 Charles Avery, 'Hubert le Sueur's portraits of King Charles I in bronze, at Stourhead, Ickworth and elsewhere' National Trust Studies 147 (1979), pp.128-47 Avery 1981 Charles Avery, 'Hubert le Sueur's portraits of King Charles I in bronze, at Stourhead, Ickworth and elsewhere' Studies in European Sculpture 1 (1981), pp.189-204 Shawe-Taylor 2018: Desmond Shawe-Taylor and Per Rumberg (eds.), Charles I: King and Collector, (exh. cat.), Royal Academy of Arts, London: 2018, 137
View more details