Cap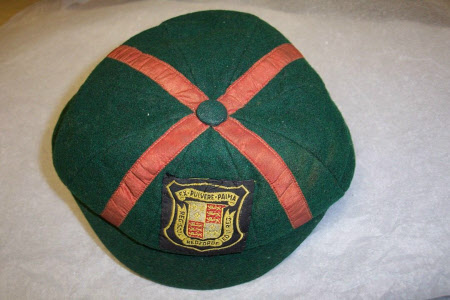 Category
Textiles
Date
Unknown
Materials
Felt
Measurements
200 x 200 mm
Order this image
Collection
Mr Straw's House, Nottinghamshire (Accredited Museum)
NT 745436
Caption
Two years after their marriage William and Florence were joined by their first son William, born 5 February 1898, he was followed a year later by Walter Winks on 16 February 1899. Two years after Walter came David Harold on 21 November 1901. Unfortunately, the family lost David early on 22 April 1903, he was only 17 months old when he passed away. Both William and Walter attended Abbey boys' school in 1905 on Vicars Walk Worksop, just a short stroll from the shop. The premises just off Potter Street were built in 1877, prior to that the large upstairs room in the Priory Gatehouse had been used. The Abbey boys' school was maintained by the church and enjoyed a reputation in town for giving its pupils a sound, if basic education. They then went on to King Edward VI grammar school Retford, at age 14 Walter sat the Cambridge exams and passed with third class honours in eight subjects (dictation and arithmetic, religious knowledge, English Lit and Lang, history and geography, French, geometry and algebra, experimental science, freehand and memory drawing). The school was located on London Road and opened in 1857 with buildings designed by Decimus Burton. Consisting of only one schoolroom, the school later built a library, a headmaster's house to house the school office, and headmaster's office. In 1890, an adjoining gymnasium was added, above it a large projection room. In 1906 came the erection of several 'temporary' buildings along the Dominie Cross Road, which included the so-called "Tin Tab". In 1912 the school pupils, like those of many other schools of the day, donated monies to fund dogs for the 1912 Arctic expedition of Robert Falcon Scott.
Summary
Small circular green felt school cap with peak red striped cross and badge of Retford Grammar School with motto. Marked 'W W.Straw' inside.
Provenance
Straw collection bequeathed to the National Trust on the death in 1990 of William Straw.
View more details