Bust of Sir Richard Colt Hoare
Richard Cockle Lucas (Salisbury 1800 – Chilworth 1883)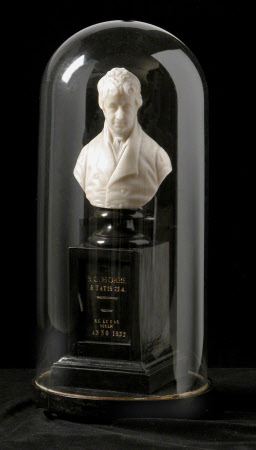 Category
Art / Sculpture
Date
1832
Materials
Wax on turned wooden socle
Measurements
150 x 100 x 60 mm
Order this image
Collection
Stourhead, Wiltshire (Accredited Museum)
NT 732904.1
Summary
Wax on turned black wooden socle, Sir Richard Colt Hoare, 2nd Bt (1758-1838), Richard Cockle Lucas (Salisbury 1800 – Chilworth 1883), 1832. Wax portrait bust of Sir Richard Colt Hoare, the head turned slightly to left. Mount inscribed in gold, 'R.C. HOARE | AETATIS 73.4. | R.C. LUCAS | SCULPT | ANNO 1832'.
Full description
This miniature bust carved in wax is a portrait of Sir Richard Hoare, the celebrated antiquarian and artist who, in 1798 and 1810, conducted major excavations of Stonehenge. Richard Cockle Lucas depicts Hoare at the age of 73 and 4 months, according to the inscription 'Aetatis 73.4'. Lucas went on to depict Hoare in a full-size marble bust (NT 732918) and to produce Sir Richard's memorial sculpture at Salisbury Cathedral: a touching tribute showing the antiquarian seated in a comfy chair, wearing a dressing gown and writing notes in a large book with a quill, surrounded by papers and books. Modellos for the bust and memorial are NT 732941 and NT 732902.1; there is also a modello for a wall monument, showing Sir Richard at his studies: NT 732903. Richard Cockle Lucas, born in Salisbury in 1800, is described by Gunnis as an artist of 'great originality'. He began his career carving knife handles apprenticed to his uncle, a cutler, in Winchester. According to his autobiography, he 'soon became proficient in the art of making scissors', one day making 'twelve pairs of scissors so small that they were enclosed in a peach stone' which he also 'elaborately carved' with the Lord's Prayer, before 'selling it to a lady for a golden guinea'. Lucas enrolled in the Royal Academy Schools in 1828, training under Richard Westmacott (1775-1856) and gained prominence as a sculptor of medallions and portraits in ivory, wax, and marble. He also turned his hand to etching, publishing a series of prints associated with his wax models of the Parthenon marbles, depicted as they might have looked before the 1687 bombardment. In 1856 he published etchings about the house he designed and built for himself, named 'Tower of the Winds' near Romsey, Hampshire. These were followed by many other popular etchings depicting his own sculpture, biblical stories, and scenes from poems. Lucas was also good company, a noted 'conversationalist' and frequent guest at Lord Palmerston's seat, Broadlands. In 1865 Palmerston endowed him with a Civil List Pension and in the same year the sculptor bequeathed a collection of his ivories, waxes and a marble group to the South Kensington Museum (now the V&A), a gift which gave him the pleasure of being 'exhibited as an old master' despite being very much alive. As a personal side-project, Lucas produced a series of albumen carte-de-visite in which he photographed himself in the guise of various 'attitudes': cloaked and furtive in 'The Dark Conspirator' (NPG Ax23415), starry-eyed in 'A Hopeful Lover' (NPG Ax23403) and mystical in 'The Necromancer' (NPG Ax23410). Lucas died at his home, Tower of the Winds, in 1883. Alice Rylance-Watson January 2018
Credit line
Stourhead, The Hoare Collection (The National Trust)
Marks and inscriptions
Front, plinth: R.C. HOARE | AETATIS 73.4. | R.C. LUCAS | SCULPT | ANNO 1832.
Makers and roles
Richard Cockle Lucas (Salisbury 1800 – Chilworth 1883), sculptor
References
Bilbey and Trusted 2002: Diane Bilbey and Marjorie Trusted, British Sculpture 1470 to 2000, A Concise Catalogue of the Collection at the Victoria and Albert Museum, London 2002, p.327
View more details