The Stourhead Library Steps
Thomas Chippendale II (1749 -1822)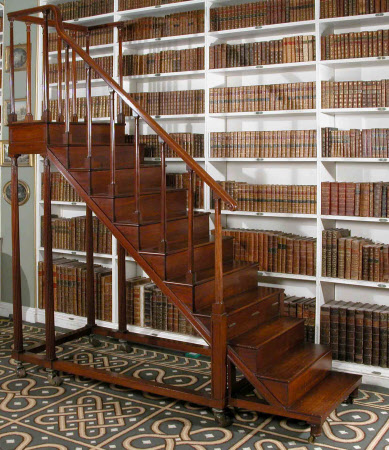 Category
Furniture
Date
1804
Materials
Mahogany, brass, leather
Measurements
315.5 x 184.5 x 90 cm
Place of origin
London
Order this image
Collection
Stourhead, Wiltshire (Accredited Museum)
NT 731678
Summary
A large set of mahogany library steps by Thomas Chippendale the Younger (11749-1822) London 1804. Commissioned for the Library at Stourhead by Sir Richard Colt Hoare. With eleven steps, the lower three fold up for ease of movement, the upper step with a drawer. The moulded hand rail with turned supports and raised on further turned reeded supports tied by stretchers, brass and leather castors.
Full description
Chippendale's account dated 19th November 1804 'A large mahogany flight of steps on carved and reeded columns, strong brass castors a hand rail on one side continued at the top and turned baluster railing, the bottom steps to fold up £52-' Four sets of steps were invoiced, the other three were smaller and are no longer in the collection at Stourhead. Thomas Chippendale the Younger at Stourhead Sir Richard Colt Hoare employed Thomas Chippendale the Younger (1749-1822) from 1795 to 1820 to supply furniture and furnishings for Stourhead in Wiltshire. The accounts submitted for his work are the largest known archive relating to Chippendale's work. Out of the 163 pieces of furniture described in the accounts, 103 are still in the house, mostly in the rooms for which they were made. There was a fire in 1902 which destroyed the central part of Stourhead but fortunately most of the pictures and furniture from the ground floor were saved, the majority of the contents of the upper floors were destroyed. Chippendale the Younger worked with his father Thomas Chippendale (1718-1779) for many years before the latter died. Much of the work he produced in the 1780s and 1790s continued the styles and techniques associated with the Chippendale firm. During these years he was completing or continuing commissions that the firm had been involved with including Harewood house, Nostell Priory, and Burton Constable amongst others. The furniture supplied for Stourhead shows the continued high quality and attention to detail that was expected from the Chippendale workshops, linked with simplicity of decoration and clarity of line. For further discussion and extensive published research see: Goodison, Judith 'The life and work of Thomas Chippendale Junior' PWP 2017 Goodison, Judith 'Thomas Chippendale the Younger at Stourhead' Furniture History Society 2005 (Vol. 41) pp. 57-116 Gilbert, Christopher 'The life and work of Thomas Chippendale' London 1978 Vol.1 pp.235, 267 Beard, Geoffrey & Gilbert, Christopher 'The Dictionary of English Furniture Makers, 1660-1840' Furniture History Society 1986 pg.169 Dudley Dodd & Lucy Wood, 'The Weeping Women commode and other Orphaned Furniture by the Chippendales at Stourhead', in Furniture History XLVII (2011) James Weedon (March 2018)
Provenance
Commissioned for the library at Stourhead by Sir Richard Colt Hoare. Made and supplied by Thomas Chippendale the Younger in 1804. Given to the National Trust along with Stourhead House, its grounds, and the rest of the contents by Sir Henry Hugh Arthur Hoare, 6th Bt (1865 – 1947) in 1946.
Makers and roles
Thomas Chippendale II (1749 -1822), cabinet maker and designer
References
Goodison, 2005: Judith Goodison. "Thomas Chippendale the younger at Stourhead." Furniture History 31 (2005): pp.57-116, pp. 57-116 Gilbert, 1978: Christopher Gilbert. The life and work of Thomas Chippendale. London: Studio Vista: Christie's, 1978., pp. 235, 267 Beard and Gilbert, 1986: Geoffrey Beard and Christopher Gilbert (ed), Dictionary of English Furniture Makers 1660-1840, 1986, pg.169 Goodison, 2017: Judith Goodison, The Life and Work of Thomas Chippendale Junior, PWP London & New York 2017
View more details
Related articles