The Stourhead Library Table
Thomas Chippendale II (1749 -1822)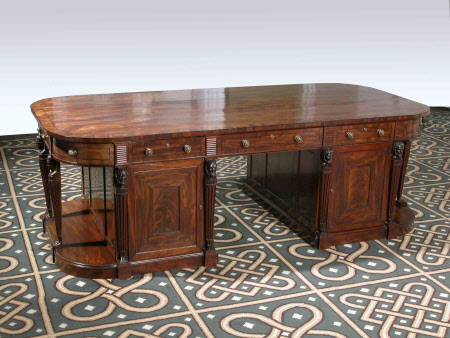 Category
Furniture
Date
1805
Materials
Mahogany, ebony, brass, oak and deal construction
Measurements
80.5 x 244 x 116 cm
Place of origin
London
Order this image
Collection
Stourhead, Wiltshire (Accredited Museum)
NT 731675
Summary
A mahogany and ebony strung library table by Thomas Chippendale the Younger (1749-1822) London 1805. Commissioned for the Library at Stourhead by Sir Richard Colt Hoare. The rounded rectangular top above a central section with three frieze drawers and a pair of panelled cupboard doors to the pedestals, repeated on the other side. The rounded open ends with three further drawers and a panelled recess. The cupboard doors all flanked by fluted tapered pilasters headed with carved classical male heads, the ends with twin reeded tapered columns headed by Egyptian female heads, all raised on breakfront plinths. Brass lion's head cast masks, iron castors hidden in the plinths.
Full description
Chippendale's account dated 1st March 1805 'A large mahoganylibrary table with pedestals and drawers inside the pedestals, mahogany paneled doors, thermed legs with philosophers heads carved on ditto. 4 end therms with Egyptian heads the top part fitted up with drawers of fine wood. The whole made to take to pieces, and strong iron castors £115-' and 'A thich green cloth cover for ditto £2-15-' Josiah Wedgwood (1730-1795) commissioned artists including the sculptor John Flaxman to make models that he could reproduce in ceramic form and from 1770 he purchased and commissioned products from the London plaster modelers Hoskins & Oliver and sold cameos, intaglios and other ornaments to collectors, manufacturers and retailers. Wedgwood published his first catalogue in 1773 and stated that 'the designs were not just for rings and bracelets but also for furniture'. Chippendale was a customer and is listed in the Wedgewood ledgers and various items of his furniture include carvings taken from Wedgwood's designs. The sarcophagi at Stourhead (NT 731553) have applied Medusa head medallions which were modelled by Flaxman for Wedgewood and first produced in 1777. Carved 'philosophers' heads enhance this library table and it would seem plausible that all the individual heads could have been modelled from Wedgwood busts . Wedgwood used sculptors such as John Cheere and Joseph Wilton to supply some busts for him but most models came from Hoskins and Grant from whom he purchased 20 'Plaster casts prepr'd to Mould' in 1774. All these were readily available and were an easy and reliable source. The busts have been crucial to identifying the Library Table heads which include Homer, Virgil, Horac, Socrates, Pindar, Seneca, Zeno and Plato. For discussion in more detail see pp. 54-59 of Goodison's 'The life and works of Tmomas Chippendale Junior' Thomas Chippendale the Younger at Stourhead Sir Richard Colt Hoare employed Thomas Chippendale the Younger (1749-1822) from 1795 to 1820 to supply furniture and furnishings for Stourhead in Wiltshire. The accounts submitted for his work are the largest known archive relating to Chippendale's work. Out of the 163 pieces of furniture described in the accounts, 103 are still in the house, mostly in the rooms for which they were made. There was a fire in 1902 which destroyed the central part of Stourhead but fortunately most of the pictures and furniture from the ground floor were saved, the majority of the contents of the upper floors were destroyed. Chippendale the Younger worked with his father Thomas Chippendale (1718-1779) for many years before the latter died. Much of the work he produced in the 1780s and 1790s continued the styles and techniques associated with the Chippendale firm. During these years he was completing or continuing commissions that the firm had been involved with including Harewood house, Nostell Priory, and Burton Constable amongst others. The furniture supplied for Stourhead shows the continued high quality and attention to detail that was expected from the Chippendale workshops, linked with simplicity of decoration and clarity of line. For further discussion and extensive published research see: Goodison, Judith 'The life and work of Thomas Chippendale Junior' PWP 2017 Goodison, Judith 'Thomas Chippendale the Younger at Stourhead' Furniture History Society 2005 (Vol. 41) pp. 57-116 Gilbert, Christopher 'The life and work of Thomas Chippendale' London 1978 Vol.1 pp.235, 267 Beard, Geoffrey & Gilbert, Christopher 'The Dictionary of English Furniture Makers, 1660-1840' Furniture History Society 1986 pg.169 Dudley Dodd & Lucy Wood, 'The Weeping Women commode and other Orphaned Furniture by the Chippendales at Stourhead', in Furniture History XLVII (2011) James Weedon (February 2018)
Provenance
Commissioned for the Library at Stourhead by Sir Richard Colt Hoare. Made by, and supplied by Thomas Chippendale the Younger in 1805. Given to the National Trust along with Stourhead House, its grounds, and the rest of the contents by Sir Henry Hugh Arthur Hoare, 6th Bt (1865 – 1947) in 1946.
Makers and roles
Thomas Chippendale II (1749 -1822), cabinet maker
References
Goodison, 2005: Judith Goodison. "Thomas Chippendale the younger at Stourhead." Furniture History 31 (2005): pp.57-116, pp. 57-116 Gilbert, 1978: Christopher Gilbert. The life and work of Thomas Chippendale. London: Studio Vista: Christie's, 1978., pp. 235, 267 Beard and Gilbert, 1986: Geoffrey Beard and Christopher Gilbert (ed), Dictionary of English Furniture Makers 1660-1840, 1986, pg.169 Goodison, 2017: Judith Goodison, The Life and Work of Thomas Chippendale Junior, PWP London & New York 2017
View more details