Commode
possibly Haig & Chippendale (fl. 1779 - 1796)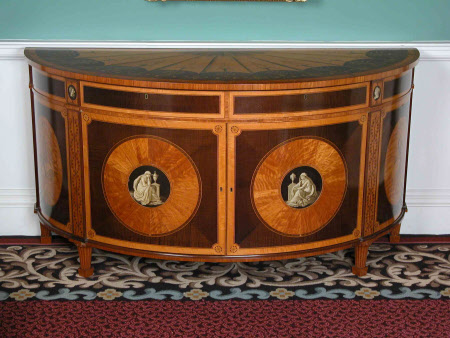 Category
Furniture
Date
circa 1785
Materials
Satinwood, harewood, purpleheart, tulipwood and partridge wood. Oak, mahogany and deal construction
Measurements
87.2 x 167.9 x 66.1 cm
Place of origin
London
Order this image
Collection
Stourhead, Wiltshire (Accredited Museum)
NT 731559
Summary
A marquetry inlaid satinwood, harewood, purpleheart, partridgewood, and painted demi-lune commode, possibly by Haig & Chippendale (fl.1779 - 1796), London, circa 1785. The top inlaid with a fan design and feather collar inlaid with anthemions and stylized foliage. The cross banding inlaid with flower head medallions above a frieze with painted classical portrait busts. The front with two drawers and two cupboard doors with circular painted panels of 'The conquered Province' and 'Andromache' flanked by inlaid panels, one with a trophy emblematic of dramatic poetry and the other of music. Raised on reeded tapering legs and block feet.
Full description
Possibly originally with a matching pier glass made for Sir Richard Colt Hoare for his house 10 Royal Terrace, in the Adelphi. In October 1784 Colt Hoare paid Haig & Chippendale £555 which may have included the commode and mirror but no bill survives. The furniture was probably sent to Stourhead after Colt Hoare's wife Hester died in 1785. There is certainly no evidence that he sold the Adelphi house contents so their transfer seems possible. A similar commode formerly in the collection of Norman Colville was sold at Christie's London 14 June 2001, lot 90. Now reunited with its pair from a private collection by Ronald Phillips, Bruton Street, London. Another comparative pair, although of different form, also sold Christie's, New York 26th October 1985 lot 152 and again Christie's, London 9th July 1992, lot 55. For further discussion and extensive published research see: Dodd & Wood 'The 'Weeping Women' commode and other orphaned Furniture at Stourhead by the Chippendales, Senior and Junior' FHS 2011 pp. 47-124 See also: Goodison, Judith 'The life and work of Thomas Chippendale Junior' PWP 2017 Goodison, Judith 'Thomas Chippendale the Younger at Stourhead' Furniture History Society 2005 (Vol. 41) pp. 57-116 Gilbert, Christopher 'The life and work of Thomas Chippendale' London 1978 Vol.1 pp.235, 267 Beard, Geoffrey & Gilbert, Christopher 'The Dictionary of English Furniture Makers, 1660-1840' Furniture History Society 1986 pg.169 James Weedon (February 2018)
Provenance
Possibly made for Sir Richard Colt Hoare for his house 10 Royal Terrace, in the Adelphi in 1784. Given to the National Trust along with Stourhead House, its grounds, and the rest of the contents by Sir Henry Hugh Arthur Hoare, 6th Bt (1865 – 1947) in 1946.
Makers and roles
possibly Haig & Chippendale (fl. 1779 - 1796), cabinet maker and designer
References
Dodd & Wood 2011, Dudley Dodd & Lucy Wood, 'The Weeping Women commode and other Orphaned Furniture by the Chippendales at Stourhead', in Furniture History XLVII (2011) Gilbert, 1978: Christopher Gilbert. The life and work of Thomas Chippendale. London: Studio Vista: Christie's, 1978., pp. 235, 267 Beard and Gilbert, 1986: Geoffrey Beard and Christopher Gilbert (ed), Dictionary of English Furniture Makers 1660-1840, 1986, pg.169 Goodison, 2017: Judith Goodison, The Life and Work of Thomas Chippendale Junior, PWP London & New York 2017 Goodison, 2005: Judith Goodison. "Thomas Chippendale the younger at Stourhead." Furniture History 31 (2005): pp.57-116, pp. 57-116
View more details