Rent table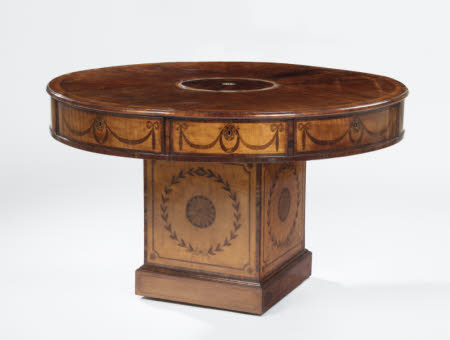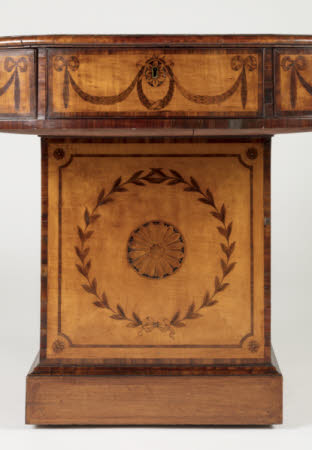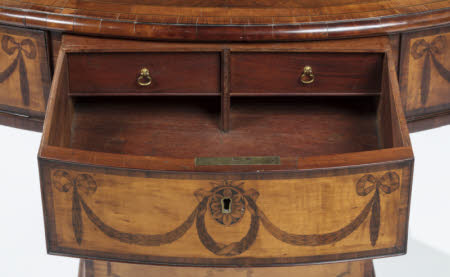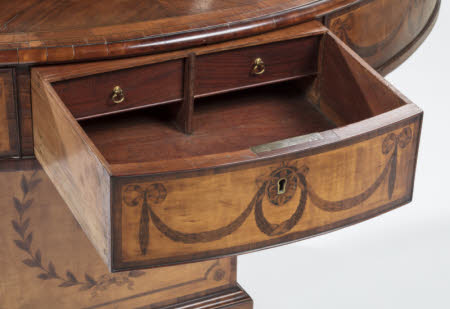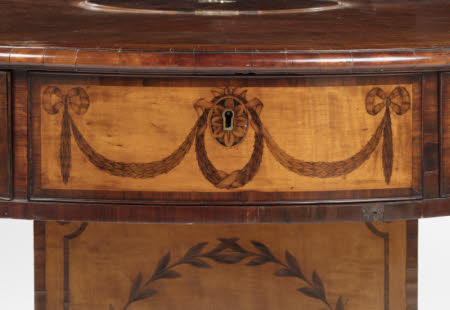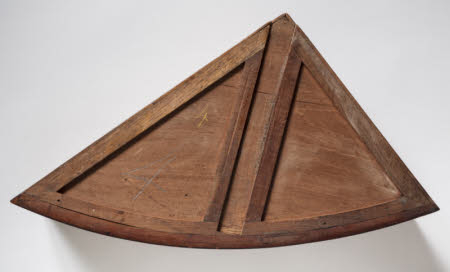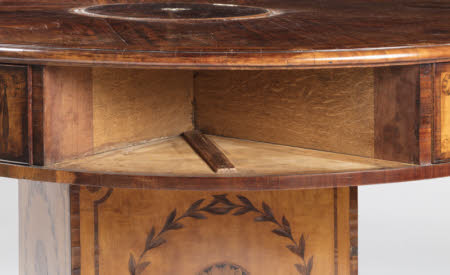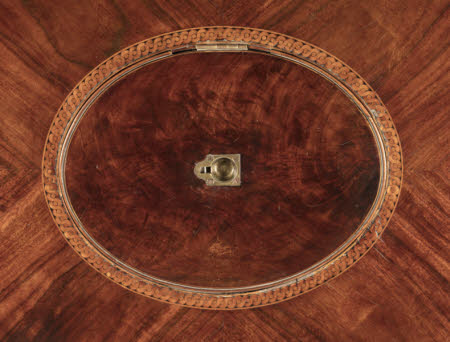 Category
Furniture
Date
circa 1770 - circa 1785
Materials
Mahogany, satinwood, sycamore, oak, brass, wooden (probably lignum vitae) castors
Measurements
72 x 125.5 x 101.5 cm
Place of origin
England
Order this image
Collection
Stourhead, Wiltshire (Accredited Museum)
NT 731558
Summary
A satinwood, mahogany and inlaid rent or drum table, English, circa 1770 - 1785. The top 731558.1; the base 731558.2.
Full description
This drum (or 'rent') table, unusual for having an oval rather than a circular top, has defied attribution. Writing in 1948, Margaret Jourdain noted that this table was part of a group of furniture (including NT 731646, a wine cooler) 'probably by the same maker, since the same enrichment of festoons appears on the friezes of the table(s) and on the body of the wine cooler; and there is a strong tradition that this furniture was made by the elder Thomas Chippendale'. A watercolour of the Drawing Room at Wavendon of circa 1840 shows this table in its present form, and it was listed in the 1841 inventory taken there as a 'Handsome Rosewood and Inlaid Table on Pedestal'. Wavendon was purchased around 1796 and furnished primarily from Barn Elms, Barnes which had been acquired by Sir Richard Hoare, 1st Baronet (d. 1787). Furniture inherited by the 1st Baronet from his uncle Henry Hoare's (d. 1785) villa in Clapham, was installed both at Barn Elms and at Sir Richard's London properties in Lincoln's Inn Fields or St. James' Square. Writing more recently, Dudley Dodd and Lucy Wood described the table as 'a rent table c. 1770 - 1790(?) and c. 1820 - 1840(?), Satinwood and marquetry; nineteenth-century oval drum top revolving on an earlier (?) square pedestal', believing that the top was a later addition. The lid to the well to the centre of the top [NT 731558.1] is certainly replaced, and there are differences in the execution of the marquetry to top and bottom. The well to the centre is lined with upright slats of mahogany, and one end drawer and one side drawer are fitted with divisions housing two small mahogany-lined drawers with brass handles, all made in a way that suggests manufacture in the 18th century.
Provenance
Visible in a watercolour of circa 1840 of the Drawing Room at Wavendon (NT 730748) attributed to Frances Annette Hoare (1822 - 1904) elder sister of the 5th Baronet. Wavendon had been acquired by Sir Richard Hoare, 1st Baronet (d. 1787) and was furnished primarily from Barn Elms at Barnes. Date of arrival at Stourhead not recorded; given to the National Trust along with the house, its grounds, and the rest of contents by Sir Henry Hugh Arthur Hoare, 6th Bt (1865 – 1947) in 1946.
References
Dodd & Wood 2011, Dudley Dodd & Lucy Wood, 'The Weeping Women commode and other Orphaned Furniture by the Chippendales at Stourhead', in Furniture History XLVII (2011) Jourdain, 1948: Margaret Jourdain. "Furniture at Stourhead, Wiltshire." Apollo July (1948). Jervis and Dodd 2015 Simon Swynfen Jervis and Dudley Dodd, Roman Splendour, English Arcadia: the English taste for pietre dure and the Sixtus Cabinet at Stourhead, 2015
View more details