Table clock
Thuret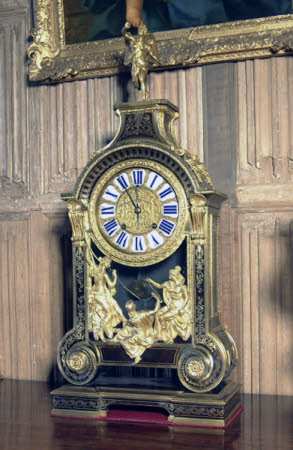 Category
Horology
Date
1700 - 1799
Materials
Oak, wood, brass, turtleshell, tortoise shell, enamel, gilt brass, steel, bellmetal.
Measurements
94 x 43 x 21 cm
Place of origin
Paris
Order this image
Collection
Vyne Estate, Hampshire (Accredited Museum)
NT 719092
Summary
14-day French table clock in boullework case, by Thuret, Paris, c.1710 2-train, 5 pillar going barrel movement with half dead-beat escapement, steel pendulum rod and pivoted suspension. Count wheel half-hour striking on bell. The backplate is signed: "Thuret AParis". The bell has the founders mark "GB" under a crescent cast inside. 22cm gilt brass dial with white enamel hour plaques with blue roman hour numerals. Chased and engraved dial centre and small engraved arabic minute figures round the periphery. Blued steel hands, the hour hand originally of fleur-de-lis type, now with the main 'ears' removed. There is a hole below the VI o'clock position for accessing the pendulum rod with a wire to push-start it. Boulle-work veneered case on an oak carcass, with fire-gilt mounts, surmounted with a winged figure of fame and with the three fates (The Moirai: Klotho, Lachesis and Atropos) mounted at the base of the glazed front door. The door is flanked by boulle-work pilasters with scrolling brackets at the top and standing on large boulle-work scrolling feet, all standing on a break-front, brass-mounted base. Note: The clock originally had a verge escapement with silk pendulum suspension (regulation square above XII on the dial) and three-bell pull-quarter repeating with the bells, including that for the hours, mounted above the movement in the superstructure. The alterations were probably all undertaken by Tupman in 1843 (whose name and date is scratched on the front plate) and included removing all the repeating work, moving the hour bell to the backplate and replacing the original escapement, silk pendulum suspension, hour bell, and hammer, pendulum and back-cock.
Marks and inscriptions
Signed THURET a Paris
Makers and roles
Thuret , maker
View more details