Headframe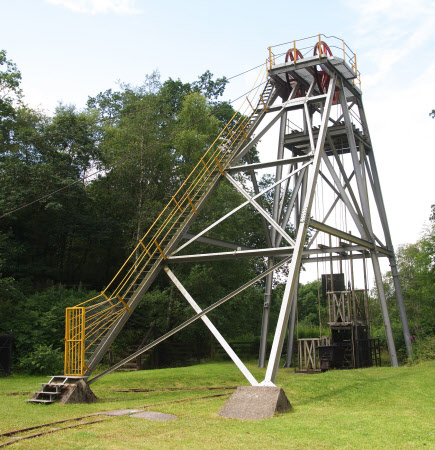 Category
Machinery and industrial devices
Date
1930
Materials
Oak, wrought iron and steel.
Measurements
14350 mm (H)7200 mm (W)6120 mm (Length)
Order this image
Collection
Dolaucothi Estate, Carmarthenshire
NT 66402.1
Summary
Frame. Headframe - Shaft headframe used in conjunction with winding engine to raise and lower cage in mine shaft. Includes fabricated steel cage(1 of 2, other cage listed separately 66402.2) for transporting men or mine tubs from surface, connected to headframe. (Halkyn collection)
Provenance
Gifted into the care of the National Trust as part of the Halkyn collection in 1987 from the Olwyn Goch Lead mine, Halkyn, North Wales. In 1962, the Holywell-Halkyn Mining and Tunnel Co. Ltd, together with Halkyn District United Mines Ltd, became subsidiaries of Courtaulds, which wished to maintain the Milwr tunnel to supply water to its Greenfields viscose factory. Mining continued sporadically until 1977, when the mines were closed. In 1985 the Greenfields factory closed and the Olwyn Goch (Halkyn N Wales) mineshaft headgear, buildings and mineyard equipment were donated by Courtaulds Viscose Europe to the National Trust. The items were transported to Dolaucothi and the headgear and buildings were re-erected in 1987. The dismantling, transport and re-erection operation was sponsored by private and public sources including the Welsh Development Agency and the Wales Tourist Board.
View more details