Marionette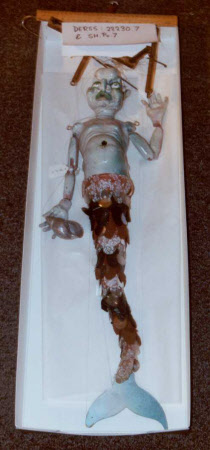 Category
Toys
Date
Unknown
Materials
Wood, thread, plaster, fabric, metal and nylon fishing line.
Measurements
780 mm (height)
Order this image
Collection
National Trust Museum of Childhood (Accredited Museum)
NT 661549
Summary
One of the puppets made for and used by the 'Lilliput Marionette Theatre' This marionette has been identified as a 'merman' and is from a play entitled 'The Little Mermaid, and is with its control. He has a plaster face on top of wood with painted and moulded facial features. He is jointed at the neck, shoulders, elbows, wrists, and waist and at the end of his tail with metal joints. The merman is moulded and painted to suggest that he is an old man. He has a green-blue painted face, chest, hands and arms, all made from wood and moulding material. He is bald and has painted eyes with silver coloured buttons for pupils. His lips are a darker shade of green. His chest is large with a green plastic bead in his navel. In his right hand he is holding a silver coloured shell and his left hand is raised upwards. His tail is stuffed and covered with scalloped layers of brown material and white material with a grey flower design, grey plastic and clear plastic sequins. His wooden tail is painted green-blue. The wooden and metal control is still attached with nylon fishing line threaded from various places.
Provenance
Donated to the Museum of Childhood by Mr E Hellawell in 1982.
View more details