Clockwork toy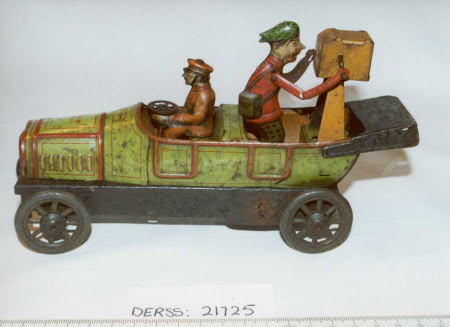 Category
Toys
Date
circa 1928
Materials
Tinplate.
Measurements
217 mm (length); 73 mm (width); 95 mm (height)
Order this image
Collection
National Trust Museum of Childhood (Accredited Museum)
NT 660401
Caption
A tin plate clockwork 'Nifty Movie Man' car. This was made just as 'talkies' were beginning to appear at the cinema.
Summary
A tinplate clockwork car with two figures of the 'Nifty Movie Men', (circa 1928). The green and red open-top car has a black hood, chassis and wheels. The driver has an orange uniform. In the back seat space stands another figure with jointed arms which are connected to a film camera on a tripod. He is wearing a green cap, red jumper, checked trousers and has a bag over his shoulder. The camera is connected to the back axle by a rod which will move his arms when the car runs along. On the bonnet is 'Nifty Movie Man' painted in red. On one side is a fixed key which is connected to the spring of the clockwork mechanism under the rear of the car. The whole car is dirty and rusty in places.